YOUR GUIDE TO OCTOBER NEWSLETTER:
articles
new members
members' window
mail to ASCAS
replies to questions
a page per month
a silversmith per month
a word per month
a crest per month
a year per month
contributors to this Newsletter
search engine
disclaimer and privacy policy
---
Giorgio Busetto presents:
SILVER FINENESS MARKS

The fineness of a precious metal object (coin, bar, jewelry, etc.) represents the weight of fine metal therein, in proportion to the total weight which includes alloying base metals and any impurities. Alloy metals are added to increase hardness and durability of coins and jewelry, alter colors, decrease the cost per weight, or avoid the cost of high-purity refinement.
Most countries have silver standards based on the parts per thousand of pure metal by mass in the alloy. Other systems express the silver standard in other ways as "zolotnick" (Russia) and "loth" (loth in Austria and German area, luoti in Finland, lődig in Norway). Various other standards were used in the past centuries in other European countries (e.g. Italy, France, Portugal, Spain).
The marks used to certify the level of silver purity are the corresponding number, a number and one or more letters, a symbol or a mix of symbol/number/letter.....
click here

---
Welcome to new ASCAS members:
Joe Capone - USA
Elizabeth DuPreez - USA
Loic Radenen - France
John Sagl - USA
Edward Scott - England UK
Ad Verhaaf - The Netherlands
Paul Wisley - USA

---
Beachville District Museum in Ontario writes:
...I am emailing you from Beachville District Museum in Ontario. We have unearthed a fragment of an old piece of flatware and are searching for more information about the fragment's provenance.
The handle's five markings proceed from top to bottom as follows:
i) a capital letter "E" in a crest-like shape (maybe a date letter?)
ii) a circular stamp with a small arrow-shape (?) extending from it
iii) an upper-case "J" in an oval perimeter
iv) a similarly shaped upper case "E" in an oval perimeter
v) an "M" or "W" or some other icon (maybe a city mark?) in a heart-shaped outline
Would anyone in your organization have any initial thoughts on what country this piece might have come from?
Many thanks for your guidance,
BDM Staff
---
Francisco J. Morales writes:
... I purchased a limited edition Faberge Tea and Coffee Set at auction.
I am now trying to gather information on who actually made it, when it was made, etc., etc., etc.
All pieces in the set are marked identically as follows:
FABERGÉ 925 "A Five Pointed Star" 1985 MI
Here's what I do know:
- Limited Edition Set sold by Fabergé within the past 25 +/- years
- 925/1000 Sterling Silver
- Five Pointed Star corresponds to 1968 Italian hallmark legislation, so it was made after 1968
- 1985 is the silversmith's unique identifying number, but I have not been able to pinpoint exactly who that silversmith actually is
- Set was made in Milan (MI)
Any information you can help me with is greatly appreciated.
Thank you,
Francisco J. Morales
The maker is AR ARGENTERIA snc di Simone Predaglio e Ivan Agnesi, Via Zucchi 39 A, Cusano Milanino (Milano). The mark MI1985 was assigned 3 September 2002.
More at http://www.arargenteria.it/Web/MenuCompany_EN.php
Giorgio Busetto

---
Pierre Saric writes:
... I cannot identify the attached punches.
Is it possible that my research is once again brought to the attention of the members of the Association?
With my greetings,
Pierre Saric
---
Maude Franceschina writes:
... I am trying to determine the maker of this salver tray.
I think it may be D Kott /Dominikus Kott of Germany. I can't find any information on the silversmith except that the factory was purchased by William Binder.
Any info appreciated. Have not seen this exact mark anywhere
Maude Franceschina
---
Ludo D'Haese writes:
... Is there a member of the society who can help to identify these two marks on a pair of candlesticks?
There are some restorations on the inner side of the base, so it is possible that one of more marks is disappeared.
Thanks
Ludo D'Haese
---
---
Luis Castelo Lopes writes
The hallmarks on this piece are the ones used in 19th century Brazil, especially in the city of Rio de Janeiro, to simulate the Portuguese ones, in this case the crowned L for Lisbon (but the crown is wrong), the FDG mark was used by a Brazilian silversmith named Francisco Duarte Graça, circa 1854.
At that time there was no official silver control in Brazil, so they would emulate hallmarks from Portugal, France and the UK to better sell their products. In fact the quality of the work was good but the public, apparently, preferred foreign hallmarks, even fake ones.
Best regards
Luis Castelo Lopes

---
Krisztián Fekete writes
In the ascasonline.org 2018.febr newsletter I see a question about a Hungarian silversmith:
HI, next to the 1937-1966 Diana hallmark was the mark of Hajós Imre.
He worked in Budapest. First mentioning in the Hungarian registration in 1927 with a similar mark, like in the post. His forge was in the Síp street 6, and worked till the socialization by the communist state (1948).
Hope this helps.
Best regards!
Krisztián Fekete

---
In this column we presents a page obtained from makers' brochures, books, auction catalogs, advertising or whatever other printed paper, related to silver, that may be of interest for ASCAS members.
The images will be published at a "low resolution" level and for private and personal use only.
This column is published under the kind permission of Giorgio Busetto's website

SILVER ADVERTISEMENTS

FACTORIES, PLANTS, SALESROOMS, SHOPS AND WORKSHOPS: OLD IMAGES

This month ASCAS presents a page from a 1677 book
A NEW TOUCHSTONE FOR GOLD AND SILVER WARES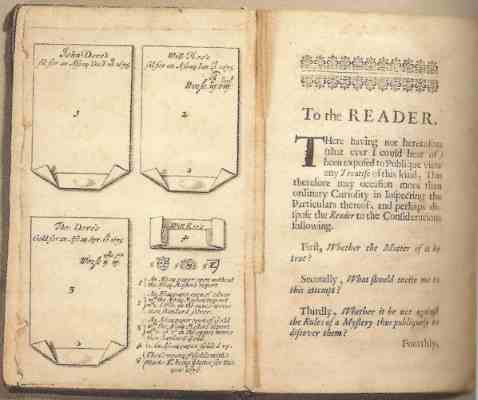 The page shows how in the 18th century a sample should be submitted to the Assay Office for a private assay.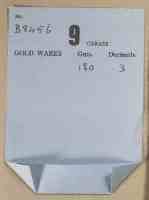 The same method of wrapping a sample is still used 250 years later at London Assay Office.

---
In this column we present an abstract from a page of the "What is? Silver Dictionary"


courtesy of





LOVE TOKEN COIN