---
David McKinley presents:

The Mystery of the Sterling Lion



Arguably the best known and most widely respected mark of quality ever created was what is now called the 'sterling' lion. There is, however, a mystery surrounding its use since it has never been established what it was originally designed to represent. It may have been intended to indicate that Goldsmiths' Hall was now (1544) under the control of the king since the Goldsmiths' Company had been obliged to surrender its charter in that year, the year of its introduction, but there is no reference to it in the Company's records.
Legislation dealing with the marking of plate wrought in England, has always had to do with those marks which must be applied to a piece of plate which has been assayed as of the required standard. No law has ever been passed dictating that any mark must not be applied to such plate. It is a fact that any one of us is quite at liberty to punch whatever marks we choose on our plate so long as that plate, if of a legal standard, also carries the marks dictated by legislation....
click here

---
Welcome to new ASCAS members:
---
Blake Raymond writes:
... I was hoping you could provide me with a little more information about some sterling silver I have.
According to who I purchased it from in 1999 and your website the silver dates back to 1879. However, I cannot figure out the initials which are ASH with a J above and an E below.
Any information you could provide me would be greatly appreciated. Thank you in advance.
Blake Raymond
The initials refers to Joseph, Albert, Horace & Ethelbert Savory (see my website at http://www.silvercollection.it/englishsilvermarksXJ.html ) The Goldsmiths' Alliance Ltd (1866-1893) late A.B. Savory & Sons (1835-1866) was incorporated in 1893 by The Goldsmiths & Silversmiths Company (see my website at http://www.silvercollection.it/ENGLAGOLDSMITHS&SILVERSMITHS.html )
Giorgio Busetto
---
Teresa Shane writes:
... My father had this in a collection of display items and I found the following marks, as shown on the photos.
Can you help me identify the maker and what the marks mean?
Thanks,
Teresa Shane
Your salt spoon bears hallmarks of London Assay Office, date 1841, maker James Beebe. This mark was entered in London Assay Office on 3rd August 1839 (see my website at http://www.silvercollection.it/englishsilvermarksXJ2.html )
Giorgio Busetto
---
Frank Yolango writes:
... I have a teaset bearing on the bottom this marks. I'd wish to have some information about its origin and date
Thanks,
Frank Yolango
These are silverplate marks of Elkington & Co. The dates are 1851 and 1853 (see my website at http://www.silvercollection.it/Elkington.html ).
The lozenge/diamond is the registration date of the pattern at the UK Patent Office (the date is 1850, see my website at http://www.silvercollection.it/dictionarylozengemark.html ).
The thistle on the right is, possible, a workman mark (see the column ""A Page per Month" in this newsletter)
Note on the photo on the right the use of the mark in the form of Elkington, Mason &Co and the "&Co" punched upside down)
Giorgio Busetto
---
---
Paola Continella writes:
... I bought this milk jug as silverplate, but I'm unable to identify the maker.
Thanks for your help,
Paola Continella
---
---
Gordon Doyle writes:
... I have been looking at your site as I have just bought a boxed set of six spoons bearing the marks W&H S D A1 pennant.
I was hoping to determine their age.
Kind Regards,
Gordon Doyle
---
Simon Buxton writes:
Hi Giorgio,
I am trying to find details about British silver and plated articles with inset coins. Examples are commonly found in ladle bowls, tankard and box lids.
I would like to know if such articles were ever made with contemporary coins?
I suspect that obsolete coins, both silver and copper, such as pennies minted prior to 1860 when the size was changed, were either attached to new goods or retro-fitted to earlier articles in Victorian times.
Perhaps you or your members can provide more information on this topic?
Regards
Simon Buxton
---

Dan Free, Jean-Gabriel Lamorte, Lynette MacDonald, Robert Massart write
The maker's mark Giotto Bargigia is looking for belongs to Hippolyte Thomas, 11 rue du Renard Saint-Sauveur, Paris and later 9 rue des Enfants Rouges, Paris. He worked during the period 1845-1855 and was registered as a cutlery and spoon maker.
Symbol : a rosebud over a star (un bouton de rose en haut et une étoile en bas).
He was succeeded by Thomas & Hénin.
The item is indeed a "Manche à gigot" or lamb chop holder as you correctly identified. Such items were usually sold with a matching fork to form a "couvert à gigot".
---
Leo van Retep writes
We are looking at a Dutch maker's mark S4Z in an anvil shaped rectangular shield for:
Fa. (Firm) Steenkist & Zweed, located in the city of Haarlem during 1949-1954. Please check for a Dutch silver standard mark, the sword mark for minimum .833 fineness.
Leo van Retep
Janjaap Luijt writes
The mastermark S4Z is used by the Dutch firm Steenkist & Zeed (1949-1954). They were located in Haarlem. The spoons most likely also bear the mark with the sword used in the Netherlands.
Janjaap Luijt
---
Charles C. Cage writes
I can clear up another three-fifths of the mystery: most of Mr. Du Pasquier's flatware is, as he thought, Swiss.
The marks with the crowned "W" and "CL/G" are those of Claude-Louis Gleises (1727-1771) of Vevey, Canton Vaud.
The "W" is actually two interlaced "V"s and represents the city arms of Vevey.
Vaud silver was generally either 11 or 10 deniers fine (.916 or .833) and, if not specifically marked, was usually the higher of the two.
The "PD" mark with a shield is that of Papus & Dautun of Lausanne, Canton Vaud (The shield, again, represents the Lausanne civic arms).
This was the partnership of Elie Papus (1713-1793) and Pierre-Henri Dautun (1729-1803), which was formed around 1760 after Dautun had married a sister of Papus' wife.
The firm – Lausanne's most prolific and prestigious of the time – continued until Papus' death, after which Dautun ran the company under his own name until his death ten years later.
Finally, the "IS/P" mark struck twice is almost certainly that of Jacques-Sigismond Pottin (1746-1816), master 1780 in Geneva, Canton Geneva.
In pre-Napoleonic Geneva, the maker's mark struck twice indicated the second standard fineness of 10 deniers, or .833. (First standard pieces of 11 deniers or .916 were struck with both an assayer's mark and a maker's mark, whereas third standard pieces of 9 deniers or .750 were struck with a single maker's mark only).
I hope someone else can identify the "BEURMAN" mark – unfortunately, I have had no luck in identifying it.
Charles C. Cage
---
---
In this column we presents a page obtained from makers' brochures, books, auction catalogs, advertising or whatever other printed paper, related to silver, that may be of interest for ASCAS members.
The images will be published at a "low resolution" level and for private and personal use only
This month ASCAS presents a page from MAY-JUNE 1973 issue of Silver Magazine

BOB MERCER, JR COLLECTS SILVER


Some times ago I received this mail:
Hello George,
I am contacting you because I found your website and saw that you have a collection of Silver Magazines. I am trying to locate an older copy from the 1970's.. I realize that you may not have this particular one for sale but maybe you can help me find out which issue I am looking for..
Here is my story:
My name is Lisa Mercer and Beulah Hodgson was my next door neighbor when I was growing up in Vancouver, Washington. Back when I was in grade school, Beulah wrote a couple of articles on both myself and my brother, Bob. I am trying to find the issue that we were in. I believe it was the same issue. What information I have is that I believe the issue was sometime between 1973-1975, I believe I was around 11 or 12 at the time and I was born in 1963. I was featured in the magazine with my collection of figural spoons. My brother Bob Mercer was featured with a Chinese silver teapot I believe.
I would certainly appreciate some assistance in locating the issue that we were in. I looked on your website and have also looked on silvermag's website by trying to search Beulah's articles and anything relating to figural or souvenir spoons and came up fruitless.
Please let me know what you find. If even just the date of the magazine, I would be very thankful.
Best Regards,
Lisa

---

After a research on my collection of Silver magazine I found the article Lisa was looking for. It's in May-June 1973 issue of Silver Magazine, but the page deals only with Lisa's brother, Bob Mercer, and his silver teapot. I own most of 1973-1974 and 1975 issues of the magazine but I was unable to find an article dealing with Lisa and her collection of figural spoons.
I hope that, 40 years later, other member of ASCAS can search in their collection of the magazine and verify in the missing issues the possible presence of another article dealing with Lisa and her spoons.
Giorgio Busetto
---
"A WORD per MONTH"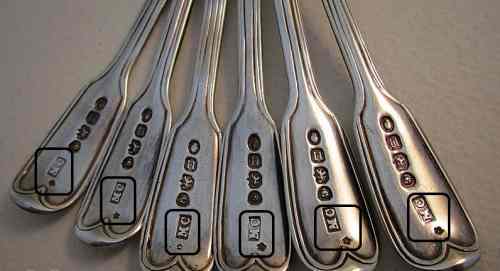 JOURNEYMAN MARK
WORKMAN MARK
The word journeyman comes from the French word journée, which means a period of one day.
The title refers to the journeyman's right to charge a fee for each day's work.
In origin he was "a man who did not gain the freedom of the City and was therefore a 'non Freeman' but was free of a livery company and thus qualified to ply his trade could do so as a 'journeyman' provided he was licensed by the corporation. Often he would continue to work for his old master in the capacity of journeyman but he could, if he wished, go to another workshop and sometimes a silversmith would remain a journeyman for all of his working life" (courtesy David Mckinley/ASCAS).
The majority of silversmiths never actually registered their own mark. ..... more
---
"A SILVERSMITH per MONTH"
CHAWNER & CO (GEORGE WILLIAM ADAMS)

(successors to WILLIAM CHAWNER II - MARY CHAWNER - MARY CHAWNER & CO

The business was founded in 1815 by William Chawner II who was apprenticed to William Fearn in 1797.
Free in in 1804 he entered his first mark as spoonmaker in 1808 in partnership with William Eley and William Fearn.
The partnership was dissolved c. 1814 and William Chawner II entered his first mark alone in 1815. After his death (1834) the business was continued by his widow Mary (née Burwash).
Later, Mary Chawner took into partnership (1840) her son-in-law George William Adams (husband of her daughter Mary Ann), who, after her retirement (or death) managed the business as Chawner & Co and remained sole partner until 1883. In this year Chawner & Co was sold to Holland, Aldwinkle & Slater (1883-1922, when the firm was absorbed by Francis Higgins & Son Ltd).....
more
---
---
Custom Search
---
Closing our SEPTEMBER 2013 edition of ASCAS Newsletter I hope you have appreciated its content.
Your comments, suggestions and advice will be of great help.

My thanks to Simon Buxton, Charles C. Cage, Paola Continella, Marc Deconinck, Charles Deheselle, Gordon Doyle, Dan Free, Jean-Gabriel Lamorte, Lynette MacDonald, Robert Massart David McKinley, Lisa Mercer, Blake Raymond, Leo van Retep, Teresa Shane and Frank Yolango for their precious contributions.

Giorgio Busetto
Secretary
DISCLAIMER AND PRIVACY POLICY
ASCAS is a community of people having a common interest in antique silver.
It is a non-profit association without commercial links. Membership is open to whomever has a true interest in this subject matter.
ASCAS has no real property and no fees are requested nor accepted from members.
ASCAS keeps in touch with its members only through periodical newsletters, e-mails and web-site updating and ignores and is not responsible for any other activity pursued by its members.
Likewise, ASCAS is not responsible for opinions, evaluation and images displayed, and in any form published or supplied for publication, by its members who, in any case, maintain the property of their works and assure the respect of national and international legislation about Intellectual Property.
ASCAS does not have the full addresses of its members (only town, country and e-mail address are requested for membership).
ASCAS handles and protects with care its members' e-mail addresses, will not disclose the addresses to third parties, will use this information only to reply to requests received from members and for communications strictly related to its activity.
These rules are expressly accepted by submitting the membership request.