YOUR GUIDE TO SEPTEMBER NEWSLETTER:
articles
new members
members' window
mail to ASCAS
replies to questions
a page per month
a silversmith per month
a word per month
a book on my shelf
a crest per month
a year per month
contributors to this Newsletter
search engine
disclaimer and privacy policy
---
A new article for ASCAS website
Patricia F. Singer presents:
A Masterpiece Gone Missing: The Silver Replica of the Sloop Defender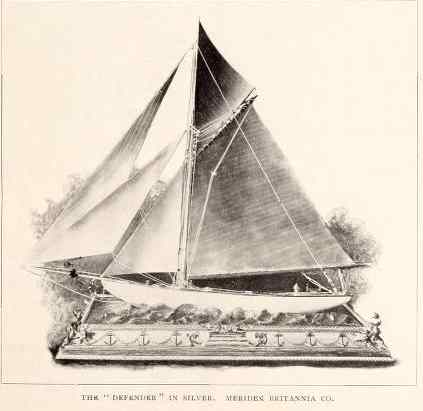 In 1895, the America's Cup regatta pitted a US boat named The Defender against a British vessel named Valkyrie III. For the US, there was a good bit of national pride riding on beating the British, who had been perpetual opponents since 1851. The sleek, costly sailboats in the race were like national sports teams writ large, attended by hosts of journalists, glamorous spectators, and fabulously wealthy sponsors (including a Vanderbilt in 1895).

The Defender was especially noted because its famed designer, the American maritime engineer Nathanael Herreshoff, had designed and constructed it in deep secrecy. After the regatta ended, the yacht's fame rose further from a dispute over an accident during the contest itself. The Defender was awarded the America's Cup on a decision........
click here

---
New members
Welcome to new ASCAS members:
Warren Danos - USA
Henry Duval - USA
Mike Folan - South Africa
Maria Natalini - Argentina
Jane Panama - USA
Chase Underwood - USA

---
Mail to ASCAS: e-mail
silverassociation@yahoo.it
Aldo Schina writes:
...I ask again your help to identify the marks on a coffee or chocolate pot. They look very strange to me..
What do you think about?
Thank you very much
Aldo Schina
Jean-Baptiste Kersulec writes:
...I try to identify the mark on the silver mount of a dish with Japanese decor.
Your help would be greatly appreciated
Jean-Baptiste Kersulec
The initials are difficult to read; anyway the maker was identified as Charles Forgelot.
He was active 1901-1928 at 4 Avenue de Clichy, Paris. The symbol is "une forge portable"
Giorgio Busetto
---
Karin Sixl-Daniell writes
It appears that the bowl has got the Diana mark without the two on mark (between 1867 and 1872, this was done this way, after 1872 both fineness ('3' in this case) and the town letter were inside the cartouche). For more on this, see Neuwirth, Wiener Gold- und Silberschmiede und ihre Punzen 1867-1922, Vol. 1, p. 60, hallmark #2.
Lienz was not in use, but Linz was, and there, the 'B' was used. If the mark is Viennese, the shape of the cartouche for the maker points potentially to quite well-known Hermann Südfeld (if polished a lot, see Neuwirth p.p. 240-241), or Heinrich Striebral (Neuwirth, p. 233) .
---
Karin Sixl-Daniell writes
This is J.W. Quist from Esslingen, both first registered and first reported in 1900 (Neuwirth, Markenlexikon fuer Kunstgewerbe, Vol. 1, Germany. Vienna, 1978, p. 21, mark #61). Apparently, the company once held 25% in WMF but went bankrupt in the 1980s. Some info on them can be found at https://wabw.uni-hohenheim.de/82175 as well as in Wikipedia: https://de.wikipedia.org/wiki/F._W._Quist
---
---
In this column we presents a page obtained from makers' brochures, books, auction catalogs, advertising or whatever other printed paper, related to silver, that may be of interest for ASCAS members.
The images will be published at a "low resolution" level and for private and personal use only.
This column is published under the kind permission of Giorgio Busetto's website

OTHER SILVER ADVERTISEMENTS



This month ASCAS presents a table of sterling silver and silverplate trade marks of
Wm. HUTTON & SONS

Huttons were taken over by James Dixon & Sons in 1931. The image is obtained from a Dixon catalog in use in the 1970s.
Further information and marks about Wm. Hutton & Sons are available at http://www.silvercollection.it/ENGLAWILLIAMHUTTON.html

---

In this column we present an abstract from a page of the "What is? Silver Dictionary"


courtesy of

EWER

Ewer is a type of large jug that has a tall, deep bowl on a stemmed base and has a single vertical scroll handle. The handle can be figural or harp-shaped extending above the rim of the mouth.

The bowl is sometimes of ovoid shape with a narrow tall neck, but is usually cylindrical, baluster-shaped or helmet shaped.

Until the introduction of the fork ewers and basins were an essential part of the dining and the washing ceremony a recognized part of the dining table etiquette. A servant hold a silver basin in front of each guest, another poured the water from the ewer over the hands of the guest into the basin.

A towel with which the diner dried his hands concluded the ceremony....

MORE...

---

In this column we present marks, information and history of silversmiths and silver manufacturers.
This column is published under the kind permission of Giorgio Busetto's website
ALVIN CORPORATION

Founded by Wm. H. Jamoneau in 1886 as Alvin Mfg Co in Irvington, New Jersey.
The firm changed to Alvin-Beiderhase Co (c. 1893) under the management of Wm. H. Jamoneau, Henry H. Leibe and George B. Beiderhase moving in 1895 to Sag Harbour, Long Island.
In 1897 Alvin-Beiderhase Co, maker of Official World Fair souvenir spoons for 1893-94 Chicago Columbian Exposition, was purchased by Joseph Fahys & Co (watch-case manufacturer) operating as a branch until 1910..... MORE...

---

In this column we present images and descriptions of Crests and Mottoes of British, Irish and Scottish families as engraved on silver items.
This column is published under the kind permission of Giorgio Busetto's website
FAMILY CRESTS: LIST OF NAMES ILLUSTRATED DIRECTORY OF FAMILY CRESTS ALLANSON

The crest of Allanson family
The Latin motto is 'Virtute et labore' (by bravery and labour)
The crest is described as 'a demi lion, rampant, gardant, or, on dexter a cross'
The crest was found on a pair of silver tea tongs hallmarked "lion and WH" (William Harrison I, entry 1758)

---

DISCLAIMER AND PRIVACY POLICY

ASCAS is a community of people having a common interest in antique silver.
It is a non-profit association without commercial links. Membership is open to whomever has a true interest in this subject matter.
ASCAS has no real property and no fees are requested nor accepted from members.
ASCAS keeps in touch with its members only through periodical newsletters, e-mails and web-site updating and ignores and is not responsible for any other activity pursued by its members.
Likewise, ASCAS is not responsible for opinions, evaluation and images displayed, and in any form published or supplied for publication, by its members who, in any case, maintain the property of their works and assure the respect of national and international legislation about Intellectual Property.
ASCAS does not have the full addresses of its members (only town, country and e-mail address are requested for membership).
ASCAS handles and protects with care its members' e-mail addresses, will not disclose the addresses to third parties, will use this information only to reply to requests received from members and for communications strictly related to its activity.
These rules are expressly accepted by submitting the membership request.