YOUR GUIDE TO SEPTEMBER NEWSLETTER:
articles
new members
members' window
mail to ASCAS
replies to questions
a page per month
a silversmith per month
a word per month
a crest per month
a year per month
contributors to this Newsletter
search engine
disclaimer and privacy policy
---
Steve Cox presents:
The Rare Spanish Carlos III Al Merito Medals. A Chronology 1764 to 1783

Little did I realize one cool December morning of 2004, that in April 2010 I would be writing an article about an early Spanish medal that at the time I had no knowledge of. It all started on a trip I made to visit a friend and fellow history buff. The area on, and surrounding his farm, is rich in sites from the first days of Indian Removal, early 1830's. While out on one such site, a historic Choctaw meeting place, he glanced down at the ground and saw what he thought was a silver dollar. After examining it closer he saw it was not a coin, but some kind of medal. The inscriptions on the medal were all in Spanish, and no date was on it that might help determine the age. After looking at it I didn't know a lot more about it than he did, but having spent 5 years running a gold dredging operation in Ecuador, I was able to translate the Spanish inscriptions on it. I was intrigued by it, and a few months after acquiring it, I decided to dedicate some time researching it. After 6 years and several hundred hours of research I decided it was time to put my work into a research paper. I am not a stranger to this type of project. In 1974 after a decade of historic site location and research, I became a founding member of the Southwest American Historic Artifact Research Association, referred to as "S.A.H.A.R.A". I served as President for many years, and enjoyed working with many archeologist, museums, and research groups.....
click here

---
Alan Yates presents:
THE PRIZE CUP OF VICTORIA MOUNTED RIFLES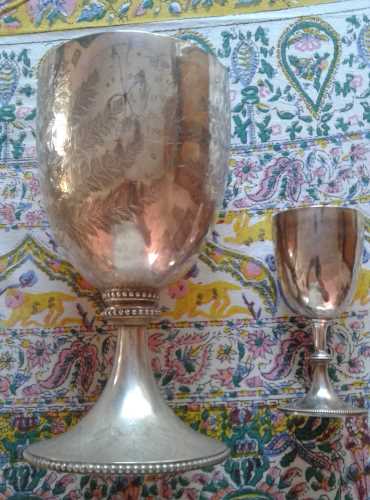 A lovely silver trophy, marked "CB" (Charles Boynton?), and London 1882, and stands about 300 mm high.
I bought it on Ebay while resident in Austria. The entire cup is beautifully decorated all round with foliage, possibly some ginko leaves, and inscribed on three sides as follows: "Government Challenge Cup for Mounted Volunteers Natal 1883" (four years after the final battle in the Zulu War, the Battle of Ulundi), "Won by the Victoria Mounted Rifles" (since then renamed the Natal Mounted Rifles), and a list of the ten team members....
click here

---
Janet Love writes:
...Mr. Giorgio Busetto:
My Name is Janet Love and my mother's family has been connected to the silver model of the yacht "Defender" since it was made.
We have only followed it from Meriden CT. to Dublin OH. so my information is up to 1998. (see supporting documents)
My Great Grandfather (James Pullan) was a silversmith at the Meriden Britannia Co. at the time of the making of the model.
He had always claimed to have been the worker who made it.
Please add this information to your web site and maybe you can locate its whereabouts soon.
I may do some more research on my end, but can't promise I would find it.
My mother (now 91) was the one who saw it last in Dublin, OH. July 1998. (photo attached July 1998)
Please let me know if you can locate the masterpiece.
Yours truly,
Janet Love
Massapequa, New York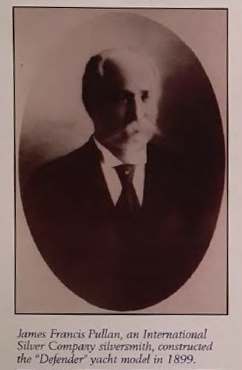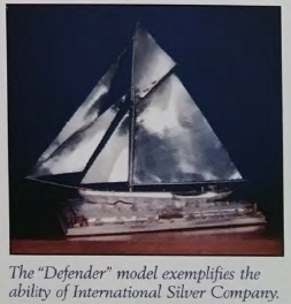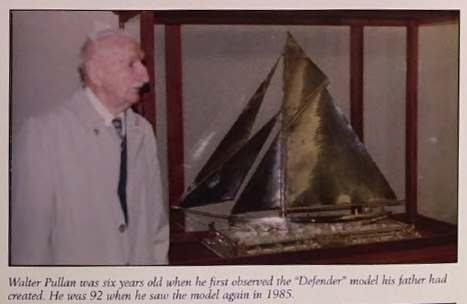 This mail was received after the publication of the article "A Masterpiece Gone Missing" written by Patricia F. Singer in September 2017 edition of ASCAS newsletter.
The information and images supplied by Janet Love are now published as an ADDENDA to the original article at http://www.ascasonline.org/ARTICOLOSETTEM221.html
ASCAS thanks Ms Love for her precious contribution to the knowledge of the matter of common interest.
Giorgio Busetto
---
Possibly Portugal, Lisbon, 19th century
Giorgio Busetto
---
---
Yvonne Barber writes
I believe Arno Malinowski (1899-1976) was simply responding to the economic downturn and the start of WWII which resulted in the scarcity of sterling silver and the lack of interest in luxury items.
I would expect therefore that the iron and silver items were made only during the years of WWII. He also made objects using iron and silver such as dressing table mirrors. He may have been influenced to use iron because he was also a sculptor and therefore used to working with metals other than silver.
Yvonne Barber

---
---
In this column we presents a page obtained from makers' brochures, books, auction catalogs, advertising or whatever other printed paper, related to silver, that may be of interest for ASCAS members.
The images will be published at a "low resolution" level and for private and personal use only.
This column is published under the kind permission of Giorgio Busetto's website

SILVER ADVERTISEMENTS

FACTORIES, PLANTS, SALESROOMS, SHOPS AND WORKSHOPS: OLD IMAGES

This month ASCAS presents an ancient cutlery box of
CLARFELD & SPRINGMEYER
Clarfeld & Springmeyer were the second largest cutlery manufacturers in Germany before the First World War. The firm was founded in 1858 by the businessman Fritz Clarfeld and the engraver Heinrich Springmeyer. They made cutlery in nickel silver, alpacca and paktong, and, from the 1890s, in silvered metal.
Henry van de Velde (MOD. 3000)
Joseph Maria Olbrich (MOD. 2000)
and Ernst Riegel worked as flatware designers for Clarfeld & Springmeyer.
In 1931 the name of the firm was restyled to Clarfeld & Co. K.G.


---
In this column we present an abstract from a page of the "What is? Silver Dictionary"


courtesy of





PLIQUE-À-JOUR
Plique-à-jour is a French term indicating a vitreous enamelling technique where the enamel is applied in cells, similar to cloisonné, but with no backing in the final product, so light can shine through the transparent or translucent enamel.

It is in effect a miniature version of stained-glass and is considered very challenging technically: high time consumption with a high failure rate. The technique is similar to that of cloisonné, but using a temporary backing that after firing is dissolved by acid or rubbed away...

MORE...

---

In this column we present marks, information and history of silversmiths and silver manufacturers.
This column is published under the kind permission of Giorgio Busetto's website
CLEMENS FRIEDELL

Clemens Friedell (1872-1963) was born in Louisiana but in 1875 returned with his family to Vienna where he studied music and completed his apprenticeship as silversmith.
In 1892 Friedell returned with his family to San Antonio, Texas, were his family had bought a farm.
Initially Friedell was unable to find a work as a silversmith and he arranged to live teaching music for almost a decade. In 1901 he obtained a job with the Gorham Company and moved to Providence where he worked as a chaser for the Art Nouveau style Martelé line.
In 1907, a financial panic caused demand for luxury goods to collapse, and Gorham laid off many workers, Friedell among them. He returned to Texas and farming in 1908. In 1910 Friedell moved to Los Angeles and began selling ashtrays and trinkets on consignment through a local department store.
In 1911 he opened his own shop in Pasadena, where he found a ready clientele among local society figures and wealthy Easterners who flocked there each winter.... MORE...

---

In this column we present images and descriptions of Crests and Mottoes of British, Irish and Scottish families as engraved on silver items.
This column is published under the kind permission of Giorgio Busetto's website
FAMILY CRESTS: LIST OF NAMES ILLUSTRATED DIRECTORY OF FAMILY CRESTS POLLOCK

The crest of Pollock family.
The Latin motto is "Audacter et strenue" (Boldly and readily).
The crest is described as "a boar, passant, pierced by an arrow".