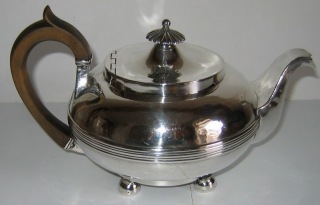 Giovanni Ciceri presents:

History and marks of Hamilton & Co - Calcutta


Storia e marchi di Hamilton & Co - Calcutta



Robert Hamilton (1772-1848) arrived in India and started work in Calcutta in 1808. He opened his Jewellery and Silversmithing shop at 5 Tank Square in 1808 under licence from the East Indian Company.
In this article Giovanni Ciceri presents a brief history of the Hamilton firm and an interesting study of its marks from 1811 to 1973.
English

italiano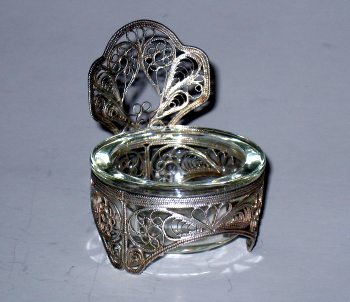 Willand Ringborg presents:

Soviet time silver salts - semi antique to come?



The extraordinary silver and jewellery craftsmanship in Russia during the 19th and the early 20th centuries was dashed to the ground by the revolution and World War I.
However, after World War II, a minor reappearance of silver pieces for general sale became visible, but organized the soviet way – industrialized production by all-union plants delivering to the entire Soviet.
In this article Willand Ringborg presents a small selection of silver salts and salt spoons of the Soviet era.
click here
---
Welcome to new ASCAS members:
Yvonne Albino - USA
Peter Brocks - USA
Diane Cass - USA
Philippe d'Arschot - Belgium
Kari Helenius - Finland
Carolyn Henry - USA
David Herman - USA
Carol Kelley - USA
Geraldine Kempe - USA
Eleanor Lee Gaunt - USA
Roberta Markow - USA
Thomas Martin - Argentina
Carol Marvos - USA
Teresa Masters - USA
Pat Turner - USA
Diane C. Wachs - USA

---
Members' Window # 26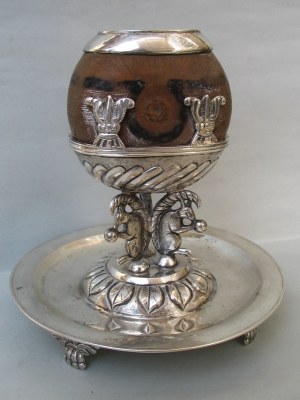 Giorgio Busetto presents:

A silver mate from South America



Maté is a word of 'quichua' origin (mati) that identifies a vase used for drinking. In Peru and Rio de la Plata maté is the name of calabash tree fruit ( 'Lagenaria vulgaris') used to contain an infusion of herbs originating in Paraguay (Olex Paraguariensis). As rhe use of this container spread through South America, the name of the vessel (mate) also became associated with name of the drink (Yerba Mate).
Giorgio Busetto presents his unmarked silver mate with the calabash cup supported by three squirrels and resting on a three footed dish. Its origin may possibly be attributed to Chili or Cuyo (Argentina), middle of the 19th century.
click here

---
David Elyea writes:
...... I would very much like to join your association. My name is David Elyea of Richmond Virginia. I also have a silver tray that I have owned for quite a while. I was hoping that one of your members might recognize the marks and know the approximate age.
I believe it is at least 19th century, if not much older. It measures 20" by 14" and the center is hand engraved with a fishing scene with whale. There are three hallmarks: crossed swords, crown and 'AB' mark.
The back is engraved with a mark which looks like 'RMA', and 'M. de Jesus Roma de A.'
Any information would be very helpful. Thank you.
David Elyea

---
Richard L. Christiansen writes
.....We would like to find an authoritative source that could identify the origins of this silver cup we believe was made in Dalarna in the period between 1742-1820.
Thank you for your assistance.
Richard L. Christiansen
---
Sharon Bares writes:
... Could you please help me identify the maker and date of this item? It is an old Norwegian Solje cross with a maker's mark that looks like a capital L with a lower case o inside the L and it is also marked as 'no.104'.
I cannot find any information about this piece. I hope someone can help.
Sincerely,
Sharon Bares
---
Paulina Wojdak writes:
... I have a problem with one mark. I've heard that this object is silver, comes from early 19th century and that it could be made by silver workers from Augsburg. Could you help me to identify the marks please.
I accompany the letter by the photos. Thank you very much indeed.
Best regards from Poland.
Paulina Wojdak
---
Carl Heimann writes:
... Is this Hallmark from Hamburg 1802? Tardy is a little inexact....
---
Michael Blake writes:
.... Please can you help me as I am finding it very difficult to make sense of it. It is quite a small pot, standing only 18 centimetres to the top of the lid. The hallmarks appear to be for 1668, but the makers mark seems to be Richard Green (early 18th century?). Having said that, the mark is not identical to the example of his mark that I have seen. (The mark is similar in that it is R G inside a heart shape, yet the letters are different and the shape beneath is also different.)
If they are his marks, could he have done some work on this earlier pot, ( the chasing for instance) and then added his mark to the existing hallmarks?
I have attached some pictures and would be very grateful for your comments.
Regards,
Michael Blake
I'm unable to help you as I have not a great knowledge of English Silver.
According to Geoffrey Wills, the earliest recorded coffee pot is one of 1681 in the Victoria & Albert Museum. Your coffee pot is made in 18th century style and I believe that in 1668 coffee was not used in private houses. I hope that ASCAS members will be able to help you.
Giorgio Busetto
---
---
Replies to members' questions

Svein Solhjell receives this reply about his silver salt cellar ( see May Newsletter)

Karin Sixl-Daniell writes:
.... this appears to me to be a mid 18th century piece and the hallmarks point to Cologne. The 12 stands for 12 lot which equals a silver content of 750. Unfortunately, I do not have information about the maker indicated on this piece.
Kind regards
Karin
Charles C. Cage writes:
.... Regarding Svein Solhjell's salt cellar in ASCAS newsletter # 25, the style and marks are consistent with 2nd quarter 18th century Germany.
The city mark appears to be that of Köln (Cologne) after 1724: three crowns above 12, with the 12 indicating 12 löt or .750 silver.
The maker's mark GG in an oval is that of Gisbert Geilenburg of Köln (Cologne): Master 1696, died after 1737.
Hope this helps!
Charles
---
Hymie Dinerstein receives this reply about his silver bowl on Members' window # 25 on May Newsletter

Martha Gaber Abrahamsen writes:

I was naturally interested in seeing the article on the Danish bowl by Hymie Dinerstein, but I think her conclusion that it was made to commemorate Hans Christian Andersen's fairy tale 'The Ugly Duckling' is unfounded.
There are many, many works of art - including numerous fountains - in Denmark with the swan, which is considered the national bird. This silversmith, Carl Peter Foght - who can hardly be considered famous, though his work is represented in several museums - would probably have used scenes from the story on the bowl itself if that was the theme.
Best regards,
Martha
---

Ian Crowland receives this reply about his silver piece ( see May Newsletter)

Karin Sixl-Daniell writes:
.... The answer to the question is that the piece is made of an Austrian coin - it is cut out of a coin (Maria-Theresien Taler). The part with eagles is the Austrian Imperial coat of arms and the head depicts the famous Empress Maria Theresia (1717-1780).
The piece itself is from the 20th century and is made of 830 silver, is not sterling but a little less silver content.
I can't really see what the item is, but I have a letter opener which is decorated with the Coat of Arms cut out part of the coin.
I hope this helps.
Karin
---
---
"A page per month"
In this column we present a page (one page only) obtained from makers' brochures, books, auction catalogs or whatever other printed paper, which may be of particular interest for ASCAS members.
The images will be published at a "low resolution" level and for private and personal use only
| | |
| --- | --- |
| | This month ASCAS presents the images of a six piece tea and coffee set and tray, table XX of the 1893 catalog of the 'Maison Boin-Taburet - fabricant orfévre joaillier à Paris': |
---
An interesting bargain
Marilyn Eustace writes:
.... Thank you for your newsletter.
I would like to inform you that there is a wonderful book available on English, Irish, and Scottish Silver, compiled by Beth Carver Wees of the Clark Art Institute. Normally this book is US $125 but the Art Institute has it on sale for $29.98. It has pictures of and describes the marks of all the pieces.
I thought it was a great bargain, but it is heavy!!
Sincerely, Marilyn Eustace
English, Irish, & Scottish Silver at the Sterling and Francine Clark Art Institute
by Beth Carver Wees
The Clark Art Institute holds one of the finest and largest collections of English silver outside of England, including many masterpieces of the silversmith's art. Begun in the 1910s by museum founder Robert Sterling Clark, the collection has continued to grow, guided by Clark's preferences. This book catalogues every object in the collection, from the early sixteenth century to the mid-twentieth century, including seventy-six pieces by Paul de Lamerie and many more by other great Huguenot masters. Detailed entries about some 850 objects provide marks, inscriptions, heraldry, description/construction/condition, comments, provenance, exhibition and publication history; full and fascinating attention is given to altered and spurious pieces. All are illustrated in rich duotone, often with details of decoration, marks, and coats of arms.
English, Irish, & Scottish Silver is an invaluable reference for scholars, collectors, and lovers of fine silver.
596 pages, 9 x 11 7/8 inches - 9 color and 1,228 duotones - Hardcover - 1997
1-55595-117-1 Regular price: $125.00 - Sale price: $29.98
The Sterling and Francine Clark Art Institute is an art museum and a center for research and higher education, dedicated to advancing and extending the public understanding of art.
I believe that this information may interest ASCAS members and is not in conflict with the 'non commercial' mission of ASCAS.
I have just ordered the book at http://shop.store.yahoo.com/clarkart/enirscotsila.html
I was requested of $ 15 for shipping to Italy (ground)
Giorgio Busetto
---
---
---
DISCLAIMER AND PRIVACY POLICY
ASCAS is a community of people having a common interest in antique silver.
It is a no-profit association without commercial links. Membership is open to whomever have a true interest in this subject matter.
ASCAS has no real property and no fees are requested nor accepted from members.
ASCAS keeps in touch with its members only through periodical newsletters, e-mails and web-site updatings and ignores and is not responsible for any other activity pursued by its members.
Likewise, ASCAS is not responsible for opinions, evaluation and images displayed, and in any form published or supplied for publication, by its members who, in any case, maintain the property of their works and assure the respect of national and international legislation about Intellectual Property.
ASCAS does not have the full addresses of its members (only town, country and e-mail address are requested for membership).
ASCAS handles and protects with care the e-mail addresses, will not disclose the addresses to third parties and uses this information only to reply to requests received by members and for communications strictly related to its activity.
These rules are expressly accepted by submitting the membership request.