Two new articles for ASCAS website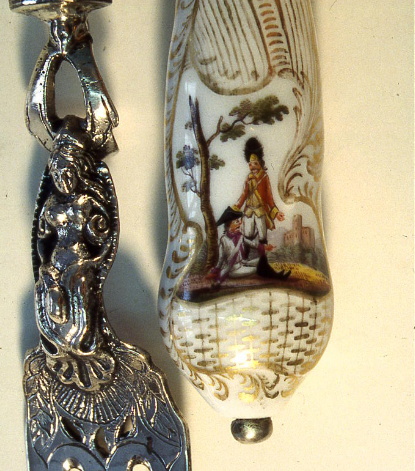 Martine D'Haeseleer presents:

L'Art de la Table: un Art de vivre
The art of the Table: an Art of life

a brief history of silverware from the Middle age to present days
The article is available in double version
English

/ Français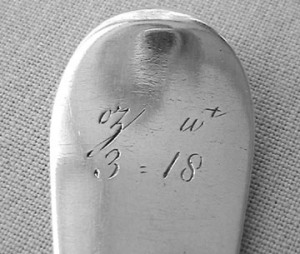 Dorothea Burstyn presents:

All These Numbers ...

Most collectors are familiar with termini technici like scratch weight, British registration mark, etc. but the knowledge about the various meanings of these numbers is sketchy at best. This article gives more info about ... all these numbers ...
click here
Dorothea Burstyn (member of ASCAS) is the President of the Silver Society of Canada. This article was published in the 2005 edition of the 'Journal' of SSC
New members
Welcome to new ASCAS members:

Geoffrey Axt - USA
David Benchétrit-Arditti - France
Keeley and Victoria Collins - USA
Paula Davidson - USA
Edward E. Herguth - USA
JJ Huthwaite - England UK
Yves Leboucq - Belgium
Terry Maftin - England UK
Goran Slobodan Petronijevic - Serbia
John R. Tossel - England UK
Lisa Young - USA
Hoda Zaki - Egypt
Guido Zanatta - Italy

Members' Window # 18

Giorgio Busetto presents:

Casters, talc bottles and pepperettes
Three centuries of silver shakers

seven small silver items ranging from the middle of the 18th century to the middle of the 20th century click here
Questions from ASCAS members
Svein Solhjell writes:
....My silver salt is marked with GG in an oval for the maker(?) and a rectangular mark which looks like 12 in the lower part and 3 vertical parallell figures/lines above the horizontal line dividing that mark in 2. Under the flenge there are 2 owner's mark (FHK ACI) and the zigzag mark from the silver testing.
I believe my salt to be from ca. 1680-1740, perhaps German or French. Does anyone recognize the marks?
Fred Sinfield writes:
....Dear Giorgio,
Thought you might like to include the attached in a newsletter as a question.
It is a lidded bowl is 130mm across, 70mm deep, weighs 285grams with a machine planished finish.
The punches are on the base and it appears to be a type of rising sun with the odd spelling of 'STEREING'.
I wonder if any reader knows these marks, can date it or has any information about the maker.
Regards,
Fred.
René Linari writes:
.... I have bought an object of wich I ignore the use. It is 27 cm. long.
I'd need your help to identify the use of this object and the name of its maker....
Cordialement,
René Linari
Replies to members' questions
Rafe Nottage writes:
I can help with the "butlers pantry". The maker may be Keystone Silver Inc. of Philadelphia, founded in 1914. Rainwater shows a mark for them with many similarities.

Pam Baker writes:
Regarding the Foley china plate belonging to Gerald Hogan, the mark is based on that used by E Brain & Co. Ltd. from 1936 until the late 1940s. This will have been a special mark for Cunard, incorporationg the name of Stoniers, the Liverpool-based suppliers. E. Brain & Co. Ltd. took over the business of Coalport China Ltd. in 1958. Wileman & Co, who made Shelley China, also used the name Foley, but the lettering on this plate is identical to that used by Brain.
Pam Baker

Closing our October newsletter I hope you have appreciated its content.
Your comments, suggestions and advice will be of great help.
My thanks to Pam Baker (USA), Dorothea Burstyn (Canada), Martine D'Haeseleer (Spain/Belgiun), Douglas Hawkes (Canada), René Linari (France), Rafe Nottage (Australia), Leslie Salvage (UK), Fredric Sinfield (Australia), Svein Solhjell (Norway) for their invaluable contributions.

Giorgio Busetto
Secretary