Two new articles for ASCAS website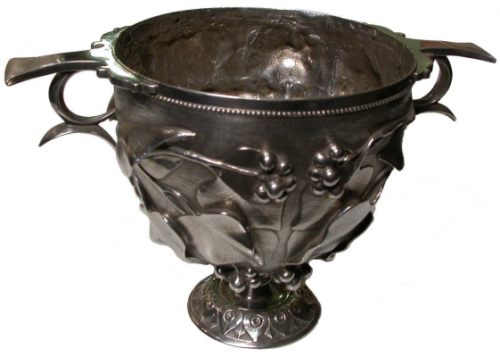 Fredric Sinfield and Giorgio Busetto present:

A Silver Cup from the Ancient Rome: Skyphos (Scyphus)
Una coppa d'argento dall'antica Roma: Skyphos (Scyphus)

starting from a 19th century silver reproduction of a Roman vase, the reader is lead, through an ancient Neapolitan book, in a small journey to discover kantharos and skyphos of the ancient Rome.
The article is available in double version
English

/ Italiano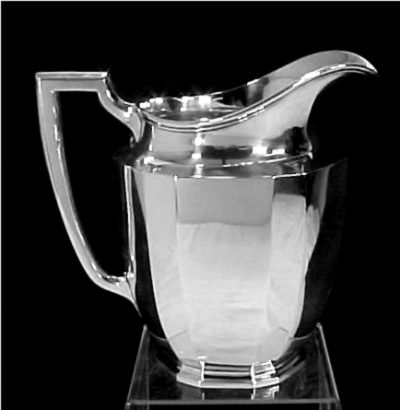 Tom Guarrera presents:

Tiffany Date Letters and Marks

An introduction to Tiffany silver hallmarking with the list of Pattern Numbers from 1851 and 1950.
click here
New members
Welcome to new ASCAS members:

Antonio Aguado - Australia
Catherine Berling - USA
Wolfang Blonowski - Canada
Lawrence Breindel - USA
Scott Cowan - USA
John Critchley - England UK
Carmen Damian - Romania
Zach Gaston - USA
Tracy Gordon - USA
Maja Houtman - the Netherlands
Gloria Kennedy - USA
V. Lott - England
Paul R. Mortimer - Scotland UK
Kathy O'Dette - USA
Ann Schweiss - USA
Leopoldo Silvestrini - Italy
Melanie Smith - USA
Svein Solhjell - Norway
Nikica Vuletic - Croatia

Members' Window # 17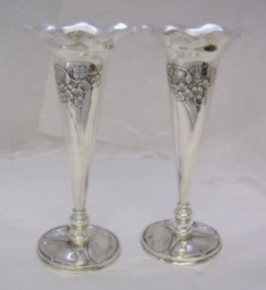 Giorgio Busetto, Michael Hutton and Pierre Debaillie present:

Vases and snuffer

a double presentation for our Members' Window #17:
two 'Art Nouveau vases' made in London and 'tray and snuffer' made in Portugal by French master silversmith Jean François Gastellier
click here
Questions from ASCAS members
Randy Vanhoose writes:
....I have a sauce boat with underplate. I cannot find anything about it. I hope you or some of the members might be able to help me.I have included a hand rendering of the marks on the bottom of the sauce boat. Thank you for your time.....best of the best to you and yours......
Randy
Denise Smith writes:
....I need help identifying both the piece as well as the "hallmarks" on the back. I recently purchased this silver piece and was told it was called a 'butlers pantry', they explained that it was used to collect crumbs that were brushed off when clearing a table. The marks on the back appear to be letters each inside a shield shape and then finally the head and chest of some kind of bird or eagle. Can you help?
Any help is greatly appreciated.
Denise
Items as your are also named 'silent butler' (small container with handle and a hinged lid; used for collecting crumbs or ashes). I have a similar piece (silver 800/1000 with ivory handle), made in Italy about 1935/1940 (see www.silvercollection.it ).
Your piece is silver plate and I hope that ASCAS members will be able to help you in identifying the maker's mark.
Hymie Dinerstein writes:
another interesting piece with attached details 7 cms long,3 cms wide 4 cms tall. weighing 100 grams. the locks on the front are imitation locks which are movable but the lid opens easy and of course it is a lovely snuff box. On the lid is an oblong cartouche engraved in script 'gage de Mon Amitie'.
I suspect it is German about 1760 but cannot trace the makers mark. Perhaps you can help.
Thanks
Hymie Dinerstein
This 'token of my friendship' box (gage de mon amitié) is an intriguing object.
ASCAS members are invited to help Hymie to find more informations about the origin and the use of this silver piece.

Gerald Hogan writes:
I have sent scanned photos of some Cunard tableware. The fork is plate indeed. The only mark...(partial) is Glas.......) I am hoping that the pattern could be matched, not to a particular ship, but to a time period in history.
Regarding the plate, the only thing I've discovered so far is the maker: Stoniers, had the contract for both Cunard, and the White Star Line.
As a consequence of the fact that its bone china, I am going to assume that it was first class. However, this is pure conjecture on my part.
Again, I am quite sure that they cannot be matched to a ship, but, perhaps to a time period.
Could you please ask about, and see what could be determined?
Gerald Hogan
Another 'navy' item by Jerry Hogan. Your help is needed!

Replies to members' questions
Giovanni Ciceri writes:
This teapot was manufactured by Elkington & Co (a good maker) and is a replica of the melon shape in fashion during the William IV and the first Victorian periods.
About the hallmarks:
• This cycle of hallmarks begun in 1875 and ended in 1899, with the anchor impressed laid down
(this particular is usually not reported by British hallmarks books, nor by the official web-site of the Birmingham Assay Office).
• The marks inside the lid are surely from c.a. 1894/95, but it is quite singular that no maker mark is impressed (at list I cannot see it from the photograph).
• It is not surprising to find the same date letter struck in a circular than in a square punch:
I found other examples of hallmarks of this cycle not compliant with those reported in the hallmarks books (e.g. a mustard pot bearing the date letter of 1893 (t) in a square punch). Of course it is strange that the same date letter was impressed on the same item with two different punches, but I'm quite sure that this pot dates 1894/95. The omission of the duty marks (practice strongly persecuted at that time) it is hardly credible, mainly on a item manufactured by Elkington & Co..
• Another peculiarity of this cycle of hallmarks is that the shape of the date letters found on items market at the Birmingham Assay Office are more similar to those used from 1893 and 1917 at the Sheffield assay Offices than to those reported for Birmingham.
Leslie Salvage writes:
am sure that this teapot is dated 1894. The gothic 'u' does indeed look like an upsidedown 'n' but as is pointed out, there is no queen's head, therefor it must be a 'u' signifying 1894. As to the 'u' on the lid being in a square, whereas the 'u' on the body is in a circle, this is not unusual. In the later 19th century date letters on Birmingham silver could be in either a round/oval or rectangle with cutoff corners. The printed tables omit many of the variations in hallmarks. As a matter of fact, I have two hallmark books and one shows the 'u' in a circle and the other shows it in a square, both for 1894.
Karin Sixl-Daniell writes:
The teapot was made by the well known makers Elkington, as far as I can see from the maker's mark (unfortunately the maker's mark is not very clear on the picture, but it leaves little room for doubt to me that this is Elkington's mark). It was assayed in Birmingham and I would say it is indeed the 1894 mark.
Rafe Nottage writes:
Confusing English Sterling Marks; Well, the maker is Elkington & Co.
Marks used:- EM&Co, FE, E&Co, E&CoLd
Trademark:- a crown above E&CO
Elkington & Co. are one of the most important names in English silver and certainly the most important in silver plate - they invented it!
They began life in Birmingham as a company of silversmiths in 1836, and experimented with improving gilding techniques. By 1838 they had discovered and patented a new way to electroplate one metal on to the surface of another. By 1840 production was already underway with silver electroplated wares. The company received financial backing from Josiah Mason in 1842 (renaming the firm Elkington, Mason & Co between 1842 and 1861) and was extremely successful. It introduced electrotyping as a new method of production for silver plated items. Elkington & Co exhibited at the Great Exhibition of 1851 with enormous success. They held Royal Warrants for Queen Victoria, King Edward VI, King George V, King Edward VIII and King George VI.
As a company they produced huge quantities of EPNS flatware, and it is always the best quality that you can find, with the original silver plate generally still being in fine condition today. Elkington & Co developed a date lettering system, so all their silver plated items can be accurately dated. They produced silver flatware too, this can be found in both traditional and unique patterns.
The Elkington & Co. name is still in use today as manufacturers under the auspices of British Silverware Ltd.

Paolo Leonelli writes:
about the question of Hymie Dinerstein on August Newsletter: the frames (if checked as solid silver) likely are French made at the end of 18th century. Usually were used for portrait miniature on ivory, but, in this case, were adapted to have hair arrangements.
Karin Sixl-Daniell writes:
Hymie Dinerstein: These look like pieces to remember a loved one to me – a picture of the hallmark would be helpful to determine more on the frames. A further explanation on this issue can be found on http://www.jewelryhistorians.com/glossary.html ("Memorial jewel: Jewel that is made in memory of a loved one, often containing hair from that person and frequently decorated with enamel") and more such pieces on
http://www.morninggloryantiques.com/collectVictHair.htm

Terence Hodgen writes:
Randy Vanhoose asks about the marks on his very attractive Crumb Butler. I believe the piece to be EPNS and made by Howard of Sheffield 1870 - 1974 as per page 45 EPNS Maker's Marks by George Mappin; published by Foulsham, ISBN 0-572-02419-3. I have found this book to be an invaluable resource. As to age it has an Edwardian fell but could range from 1895 - 1905. Others may know better.
Karin Sixl-Daniell writes:
Randy Vanhoose: I am afraid the piece is silverplate as the "EPNS" next to the marks indicates, even though Randy can only read it as E "I or F" NS as the P seems to be a bit rubbed. I do not know the maker, but the same mark can be found at
http://www.trocadero.com/stores/tildenwood/items/400293/item400293.html
for silverplated pieces of cutlery.
Rafe Nottage writes:
FH & S marks - the E?NS is probably EPNS for electro plated nickel silver (i.e. silverplate). The markings FH & S on a silverplate sound to me like those of Francis Higgins (and successors). Marks used:- FH, FH&S/Ltd Second only to Chawner & Co in terms of their importance as producers of hand-made silver flatware in Victorian England, Francis Higgins produced some exquisite patterns and are notable for their designs for small serving items in particular caddy spoons.
Francis Higgins II first entered his mark at the London Assay office in 1817 as a plate worker, however the family's involvement in silversmithing can be traced back to 1782 when James Higgins, a spoon polisher, apprenticed his son Francis I as a spoon maker to John Manby. Francis Higgins II remained in business for the next 60 years until he died in 1880 when his son Francis III took over.
Francis Higgins and Sons (as the company had been called since 1868) bought Holland, Aldwinckle & Slater (purchasers of Chawner & Co in 1883) in 1922, but by 1940 the company had closed down.
Given that the marks look to be FH & S, the piece would have to post date 1868.

| | | |
| --- | --- | --- |
| | | |
Hymie Dinerstein writes:
These are Scandinavian probably Danish 'HOVEDVANDSOEG' which are of various forms from about 1725. The earlier ones are heart shaped and pecularly are marked inside at the top of the bottom half or inside the lid. accasionall above the lid is a semi precious stone held between two birds or fishes. Sometimes they have a standing foot which opens like yours and sometimes just a foot and sometimes no foot on the 1728 one I have. further illustrations can be seen on pages 89,99,101 & 108 in Chr. A. BOJE's book 'DANSKE GULD OG SOLV SMEDEMAERKER FOR 1870' Fredric Sinfield writes:
It was with this type of spice box from Scandinavia that a young man indicated his intentions by presenting a hovedvandsäg to the young lady of his choice.
Large numbers of these containers, in a variety of styles, date from the latter part of the 18th into the latter part of the 19th century and often personalised with pin pricked initials and a date.
These maybe secreted upon one's person or free standing on a base. For further information see the Silver magazine two-part article in January and March editions 1990, "Hovedvandsäg" by Sigurd Schoubye and translated by M.A. Madison.
http://www.silvermag.com



Closing our September newsletter I hope you have appreciated its content.
Your comments, suggestions and advice will be of great help.
My thanks to Pierre Debaillie (France), Hymie Dinerstein (UK), Jayne Dye (USA), Giovanni Ciceri (Italy), Terence Hodgen (Australia), Gerald Hogan (USA), Mike Hutton (UK), Paolo Leonelli (Italy), Rafe Nottage (Australia), Leslie Salvage (UK), Fredric Sinfield (Australia), Karin Sixl-Daniell (Austria), Denise Smith and Randy Vanhoose (USA) for their invaluable contributions.

Giorgio Busetto
Secretary