click on images to enlarge
A GERMAN BEAKER FROM .... 1576
David Philliskirk is a new ASCAS member from Houston, USA.
He publishes its new find: a German beaker with the repousse bust of a figure he identifies as the Emperor Rudolph II.

This is David's description of his find:

'This is for a beautiful Antique Sterling Silver cup. This exquisite repousse portrait goblet has a date on it of 1576. The detail is amazing. On the bottom of this goblet are 4 markings. One of the markings is a lion, one looks similar to a rooster, the other 2 I cannot describe, but you can see them in the pictures.'

The beaker stands on three ball feet and is 4" dia. (cm. 10) and 6" in height (cm. 15).

David supplies some informations about the Emperor Rudolph II:

RUDOLPH II. (1552-1612), Roman emperor, son of the emperor Maximilian II. by his wife Maria, daughter of the emperor Charles V, was born in Vienna on the i8th of July 1552.
In 1563 he was sent to Spain, where his natural abilities were improved by a good education, but he lacked the frank and tolerant spirit of his father, resembling rather his uncle Philip II of Spain.
In 1572 he was crowned king of Hungary, three years later king of Bohemia; and in October 1575 he was choosen king of the Romans, or German king, at Regensburg, becoming emperor on his father's death in October 1576.
German beaker

Beakers standing on ball feet and embossed with bands of flowers and foliage were made in Germany between 17th and 18th century.
Below there are two images of items similar to David's beaker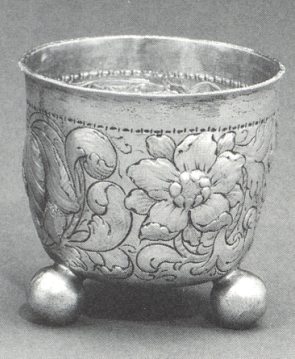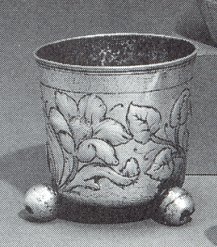 (left)
makers's mark a bird on a branch - Ansbach, late 17th century
maker's mark a hound - Nuremberg, circa 1680 (right)

It's also possible that the beaker was made at the end of 19th century adopting ancient pseudo-hallmarks widely used in Germany in that period.

Suggestions from someone with a better knowledge of the matter would be greatly appreciated.

Giorgio Busetto - 2004 -