click on images to enlarge
SILVERWARE OF GIUSEPPE GARIBALDI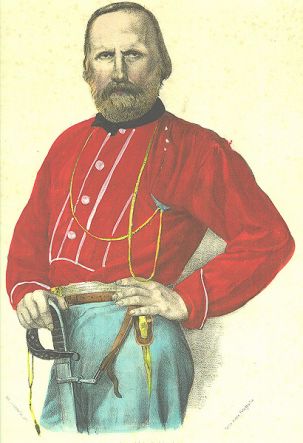 Giuseppe Garibaldi (Nizza 1807 - Caprera 1882) was called the "Hero of Two Worlds" in tribute to his military adventures in both South America and Europe.
He is the most famous hero of Italian 'Risorgimento' and gave an exceptional contribution to the unification of Italy promoted by the House of Savoy with the creation of the Kingdom of Italy under the King of Sardinia Victor Emmanuel II of Savoy.
When ASCAS' member Guido Manescotto requested my help to identify the marks of his fork I don't imagined to find so many links to the history of Italian indipendence.

The fork is in Old English style and has three hallmarks on the handle.
The hallmarks belongs to the Kingdom of Sardinia, after 1824: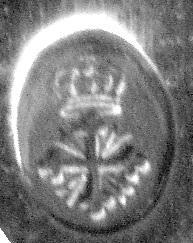 cross of Saints Maurizio e Lazzaro
2nd purity degree for large works

dolphin
hallmark of 'Ufficio del Marchio di Genova'
(Genoa's town mark)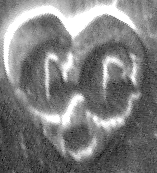 G.G. within an heart
silversmith Giuseppe Garibaldi
Obviously the maker of this fork is only an homonym of Giuseppe Garibaldi, hero of Italian indipendence.
But I've found another link with the protagonists of Italian 'Risorgimento'.
Within the silverware belonged to the Royal House of Savoy kept in the Galleria Nazionale di Palazzo Spinola in Genoa (a Museum of the Sovrintendenza dei Beni Artistici della Liguria) there's a large lot of spoons, knives and forks made by Giuseppe Garibaldi and with the same hallmarks of the fork of our member.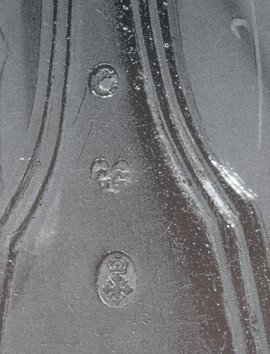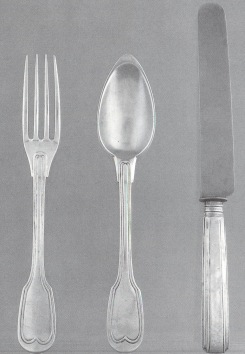 (left) silverware used by the Royal House of Savoy for its Genoa residence
marks of the silverware (right)




Kingdom of Sardinia, Royal House of Savoy, Giuseppe Garibaldi .... three big figures of Italian history within a small silver fork ...

Giorgio Busetto - 2004 -