click on images to enlarge
A TEAPOT OF ANTOINE JOSEPH GELLE'
Pierre Debaillie presents this beautiful teapot made by master silversmith Antoine Joseph Gellé working in Lille (France) in 1757.
Teapot embossed with reserves of floral decorations, curved eagle head spout, hinged domed cover with thumbpiece, bud finial and carved wood handle.
The Musée des Arts Décoratifs of Paris has a pair of silver warmers (# 45803) made by the same silversmith.
The teapot is 7 3/4 in (cm 19,5) high and weighs 825 gr.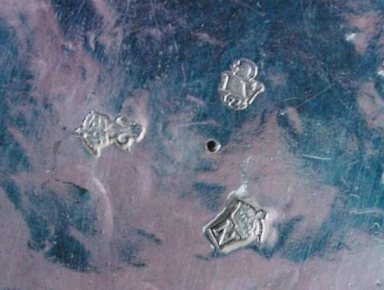 hallmarks:
- town Lille (crowned Lys)
- year 1757 (crowned N)
- silversmith AJG (Antoine Joseph Gellé, master in 1749)
Giorgio Busetto - 2004 -