A VICTORIAN SILVER WINE LABEL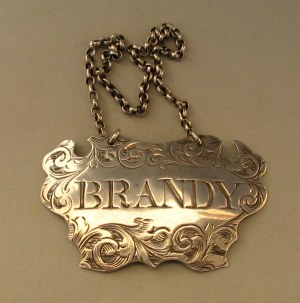 In about 1755 was introduced a glass decanter bearing an engraving with the name of the wine it should contain. In due course decanters in blue, green and amethyst glass with the names of their proper content written in gold lettering began to be made.
They were all suggested by a new device that had recently been put on the market by silversmiths: known then as a bottle ticket, but nowadays called a wine label.
The dark glass bottle no longer came to polite tables, and its place was taken by the decanter. The latter bore round its neck a small label on a chain, or announced what it held by engraved lettering on the glass surface. The labels were made in many patterns ranging from simple lettered oblongs to elaborate shapes embossed, chased and gilded.
The various designs were classified into twenty shapes by Dr. N.M. Penzer in his "Book of the Wine Label", published in 1947 ("Narrow rectangular", "Escutcheon or shield", "Crescent", "Vine and tendrils", "Goblet and festoons", "Scroll", etc.)
While the many shapes taken by labels are intriguing a similar appeal lies in the numerous names they bear. Some are of well-known beverages ( Brandy, Port, Madeira, Rum, Sherry...), others are of long-forgotten ones (Carcavella, Bucellas, Mountain, Bronte...), while quite a few are the result of misspellings on somebody's part and can cause many hours of fruitless research (NIG, Cream of the Valley, Old Tom ...).
This is a silver wine label with scrolling foliage contour and neck chain. It is engraved on the center "BRANDY" and bears Birmingham 1844 hallmarks, silversmith George Unite.
This Victorian 'wine label' is 2 3/8 in. wide (cm. 6).


George Unite was a well-known Birmingham silversmith.
Chronology of the business: George Unite & James Hilliard 1825; George Unite before 1845 - c1865; George Unite & Sons c1865-1928.
George Richard Unite died on 19 October 1896.