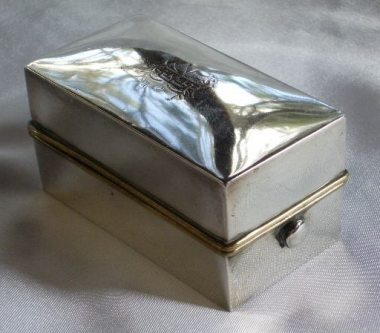 This is a sterling silver travelling spirit burner. It is a sterling silver box with hinged lid complete with brass fitted interior used to heat ladies hair curling irons.

The curling device rested on a pair of folding supports and the iron was made hot by the spirit flame.

The silver box is decorated with a monogram (not identified) and is fully hallmarked for Birmingham 1892.
The maker is Horton & Allday (1891 - 1933).

In this images It is accompanied by a hair curling iron made by Mulholland Bros Inc. - Aurora, IL, active between 1915 and 1932.

Oddly the seller was not aware of the existence of such devices and the burner was put on sale as a "travelling inkwell"