click on images to enlarge
FORTY YEARS OF ITALIAN SILVER VASES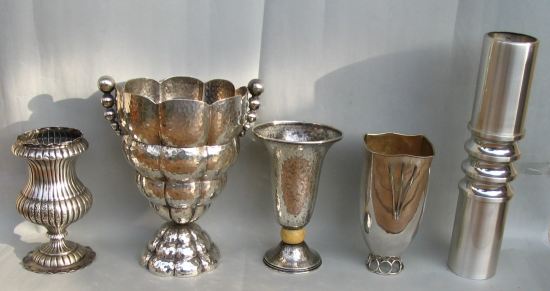 1920 c. 1925c. 1930 c. 1935 c. 1960 c.

The history of Italian silversmithing of the 20th century has not yet been written and any information about this matter is hard to find and largely incomplete.
An indirect confirm of this circumstance is the occurrence that, in spite of their hallmarks, I was unable to identify the makers of these five silver vases made in Italy in the 20th century.

The dating of these pieces is 'circa', as Italy has no 'letter' or 'symbol' system of hallmarks allowing the exact identification of the year of manufacture.

I believe that the vases examined offer a sufficient example of the evolution of taste in Italy in the first half of the past century.
---


A silver vase of classical shape with a short stem supporting a baluster cup decorated with floral engraving.
The vase was made in Italy, circa 1920, and is hallmarked with '800' (fineness degree 800/1000) and an unidentified maker's mark (a column).

Measures:
high: 5 3/4 in. (cm. 14,5)
diameter: 3 1/4 in (cm. 8,5)



---


A silver vase hand-hammered with 'bubbles' motif (also called as 'bugnato' in Italy) with two sets of decreasing balls applied on the rim as decoratif motifs and handles.
The vase was made in Italy, circa 1925, by an unknown silversmith. It has the '800' hallmark (fineness 800/1000) and no maker's mark.

This vase displays two typical motifs of Italian silversmithing of the 20th century:
- the 'bubbles', used also by Buccellati
- the set of balls, used also by Genazzi

Measures:
high: 8 in. (cm. 20,5)
diameter: 5 3/4 in. (cm. 14,5)

| | | |
| --- | --- | --- |
| | | |
| Mario Buccellati: silver vases, 1929, in 'Bagliori d'argento tra le due guerre' exhibition (Milan, 1999) | | Luigi Genazzi: Oval vase, in 'Il Deco in Italia' exhibition (Rome, 2004) |
---


A silver vase of trumpet shape and hand-hammered body with an ivory ring on its base.
The vase was made in Italy, circa 1930. It has the '800' hallmark (silver fineness 800/1000) and an unidentified silversmith's mark (an S intertwined to a hammer).
The vase is an example of the application of 'Art Deco' style in Italy.

Measures:
high: 6 in. (cm. 15,5)
diameter: 3 3/4 in. (cm. 9,5)



left: trumpet silver vase with ivory ring,
maker: an S intertwined to a hammer
(www.silvercollection.it)

right: trumpet silver vase with ivory ring,
unknown maker,
in 'Il Deco in Italia' exhibition (Rome, 2004)
---


A silver vase of 'bullet' shape with handles and base in intertwined wirework and gilded interior.
The vase was made in Italy, circa 1935, by an unknown silversmith. It has the '800' hallmark (fineness 800/1000) and 'fascio' lozenge partially rubbed.

This vase displays a motif often used by Italian silversmiths: the wirework.

Measures:
high: 5 3/4 in. (cm. 14,5)
diameter: 3 in. (cm. 7,5)



Arrigo Finzi, marchio Sant'Elia, Vaso, 1934-35,
in Il Deco in Italia'
exhibition (Rome, 2004)

Piero De Vecchi: Vaso, 1938,
iron and silver, in 'Il Deco in Italia' exhibition (Rome, 2004)
---


A plain cylindrical silver vase manufactured circa 1960 by a Florence's maker (not identified) on design of CE.VA Study.
The vase has the '800' hallmark (fineness 800/1000), the official lozenge mark with 'FI 351' and a label 'designer CE.VA study'.

Measures:
high: 10 1/2 in. (cm. 26,5)
diameter: 2 1/4 in. (cm. 5,5)



---
---