click on images to enlarge
A TOBACCO BOX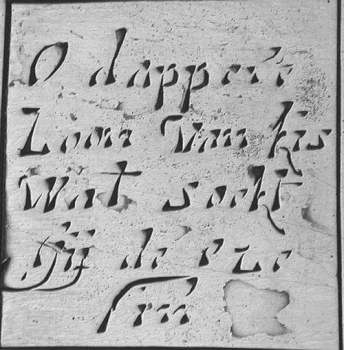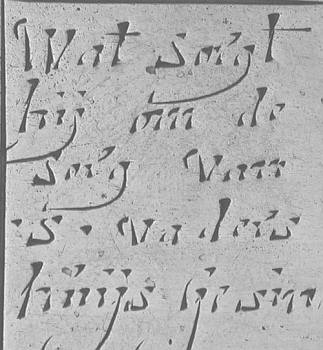 The unmarked silver box, 155x60x35mm and weighing 200 grams probably dates from the last decade of the 18th century.
On the lid is engraved scene featuring a bishop wearing a mitre blessing a kneeling supplicant with two supporters and two onlookers.
Either side are two panels with a rhyme in Dutch that reads

"O dappere zoon van Kis,
Wat soekt gij de ezelin
Wat sorgt hij om de sorg
van 's vaders huijsgesin"

This text relates to the story of Saul, son of Kis about to set off in search for the missing asses as told in the First Book of Samuel, chapter 9. Saul, who was jealous of his son-in-law David, became the first king of the Israelites but fell in battle against the Philistines. On the sides, both front and back are six panels each depicting and naming the twelve Apostles.


The engraving on the base has a central figure in front of a very large figure lying down and nearby three onlookers. There are two panels of text that are partially illegible referring to David slaying Goliath as told in the First Book of Samuel, chapter 10.
This killing of the giant was the cause of the jealousy that forced David to become an outlaw until after Saulís death when he became the chosen king of Israel.

This base panel probably contains a lightly veiled reference to one of two events of the 1780ís that occurred in the Netherlands. There was the attempted coup by the Patriots against the stadtholder Willem V in 1785 or the revolt against Austriaís rule of the Southern Netherlands at the Battle of Turnhout in 1789.
The coup attempt had it beginnings in 1781 with publication of the pamphlet Aan het Volk van Nederland addressed to the People of the Netherlands containing the political program of a group of reformers called the Patriots. At the congress, to popularise the ideas of the Enlightenment, there were demands for a new constitution.
In 1786, the group seized control the administration of Utrecht and the following year saw the defeat of the troops of the stadholder. Then the take over of the administration of Amsterdam and Rotterdam with Utrecht declared the capital of the Dutch Republic. However, 20,000 Prussian troops invaded in 1787, met little resistance and occupied Amsterdam thus ending the Patriot Revolution.
The dissidents fled to France in 1795 but returned to fight resulting in the French invading the Netherlands and establishing the Batavian Republic in 1795. William V sought safety in England and died in exile in Brunswick in 1806.

The other event was in 1789 at Turnhout in the southern Netherlands where a volunteer army defeated the Austrians forces by luring them into the city, ambushing and forcing withdrawal of the Austrians to Luxemburg. The bitterness of this defeat lead to the death of Emperor Joseph II in 1790.
Acknowledgement to Casper Staal, curator of Museum Catharijneconvent, Utrecht and Janjaap Luijt for their invaluable assistance