click on images to enlarge>
Two Continental silver salts
Giorgio Guida presents two silver salt of uncommon shape:
Russian salt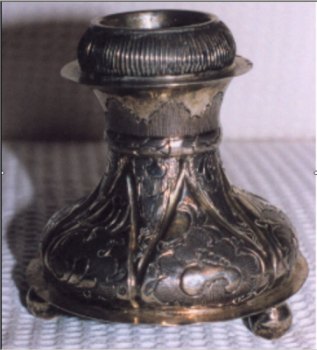 The salt stands on three spherical feet sustaining a circular base and a column with a small salt cellar on the top.
The body is richly chiseled (incised), smooth surfaces are lightly gilded while the carved parts have the classic ancient silver coating.
A dedication 'ECH to AKH' is engraved below the upper ring.
The salt is 4 3/4 in. high (12 cm) and weighs 7 oz. (211 grams).
This salt have Russian silver hallmarks of 18th century, town of Moskow (St. George slaying the dragon), silversmith A:A Aleksei Afanasiev (1777-1779), assayer A.A 1777 Andrei Andreev (1771-1779) and an unidentified (1777-1789) Aldermann's mark AOV (in Cyrillic).
The Aldermann's mark, introduced in 18th century in Moscow, was used by silversmiths' guild to certify the quality of silver artifacts.
Usually it was heart shaped with the initials (three) of the verifier.
The nature and the origin of another small mark with the shape of a 'swan' remains unidentified.
Silver salts cellars were introduced in Russia in the first half of 18th century, and few examples preceding the artifact above illustrated are known.
It's interesting to note that the shape of these salts was vaguely resumed a century later by Fabergé to make ornate silver candlesticks.
Russian silver salt
Moskow 1777
Russian silver salt
Moskow, about 1740
Russian silver candlestick
Fabergè, end of 19th century
German salt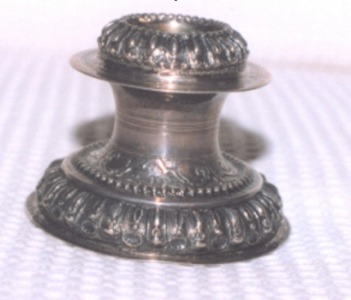 This salt has embossing and chiseling of high quality and its shape is very similar to the preceding one.
It is 2 3/4" (7 cm.) high, base diameter 3 3/4" ( 9 cm.) and weighs 4 1/2 oz. (124 gr.).
Presumably it was made in 18th century in Augsburg (Germany).
The salt has on the base the Augsburg hallmark and an Austrian duty mark used for ancient silver between 1806 an 1809 (town of Prague).
A third mark with a double 'M' refers, presumably, to the silversmith.

Another mark with a 'swan' (similar to the mark in the Russian salt) remains unidentified.
Giorgio Busetto and Giorgio Guida - 2005