click on images to enlarge
A Walker & Hall coffee pot

Mario Rosario Bonello submits to ASCAS members this excellent coffee pot made by well known English silvermith Walker & Hall at the beginning of past century.

The firm was established in Sheffield (UK) in 1843 by George Walker. Henry Hall joined the partnership in 1848 and the company was known as Walker & Hall in 1853.
The famous trademark of the flag was first registered in 1861. In 1892 Walker & Hall bought the manufacturing silversmiths, Henry Wilkinson & Company.
The firm was managed by Sir John Bingham, Hall's nephew, until 1916. He was succeeded by Sir Albert Bingham.
In 1963 Walker & Hall combined with Mappin & Webb and Elkington to form British Silverware Ltd., which closed down in 1971 due to industrial action. Walker & Hall was later revived as a retail firm.
Walker & Hall, Sheffield 1902
Description
Sterling silver coffee pot with short fluted spout, hinged cover with acorn finial. The body and the lid have their original high quality floral engravings and the handle is insulated by two ivory rings.
The pot is free from dints, dings, repairs or scratches,
Silversmith: Walker and Hall - Sheffield (UK)
Measurements: approximately 8 in. high (cm. 20) and just over 6 3/4 in. (cm. 17) from handle to tip of spout.
Weight: 20 ozs (600 gr.)
Hallmarks - Sheffield 1902
************
In my private collection I have a coffee pot made by Walker & Hall some years later (1924).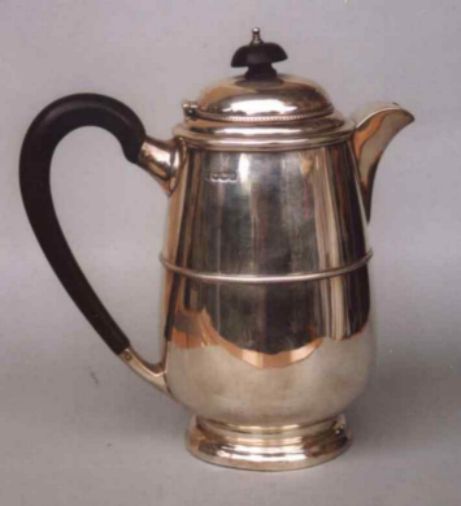 It has a less elaborate but similar short spout.
I'm wondering (and Mario Rosario Bonello with me) if these silver pieces are coffee pots or hot water jugs (or something else).
Do any members more acquainted on teaware offer any suggestions about this question?
Giorgio Busetto - 2004 -
photos by Mario Rosario Bonello