click on images to enlarge
Wax Jack or Mustard Pot?
The modification of silver items for a different use was a common practice in the past centuries.
There are many examples of these modifications, particularly for English silver: wine funnels and beakers modified as milk creamer, argyles modified as coffee pots, tankards modified as jugs....
| | |
| --- | --- |
| | |
| pair of Georgian salt cellars, London 1763 | mustard pot obtained, presumably, modifying a Georgian salt cellar of 18th century |
The transformation of silver objects was seldom practised outside England and one is sometimes found only by accident.
Now, we refer to a mustard pot made at the end of 18th century modified, few years later, to obtain a wax jack.
Giorgio Guida became aware of this modification seeing a similarly shaped French mustard pot in my collection.
After a close examination, a faint trace of the cover's spoon hole (now filled) was found.
The cover's modification also included the finial, replaced by a tubular support for the taper (note 1) .
This modification was made, presumably, few years after the origin of the object (the ancient hallmarks are very close to the filled spoon hole).

| | |
| --- | --- |
| | |
| wax jack - Paris 1779 | mustard pot - France 1798-1809 |
wax jack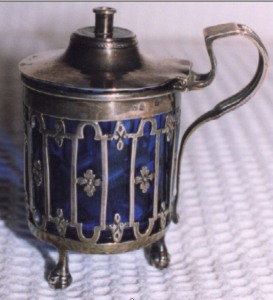 The wax jack is cylindrical shaped and its body is pierced with vertical elements and floral decorations. Inside there is a blue glass liner.
The base stands on three hoof feet and the handle has a double scroll with a hinged lid.
The was jack is 3 3/4" tall (9,5 cm.) and its diameter is 2 1/4" (5,5 cm.). Its weight is 6 1/4 oz. (179 grams).
Under the base it is engraved with an inscription: 'Riva 1674 Riva' (meaning unknown).

This wax jack was made in Paris (France) in 1789 and has 10 hallmarks :

upper side of the cover:

'poincon de decharge' (duty payment).
underside of the cover

mark of 'Jourande', or 'poincon de la Maison Commune', used by silversmiths' guild to certify silver quality (town mark and year: Paris 1789)

mark of 'charge' (duty) collector Jean Francois Kalandrin - 1786/1792 (duty will be paid when the object is finished).

silversmith's hallmark (a crown with floral motif on the top and N - N aside. Below a five petal flower) (image not available).
upper side of the body

mark of 'recense', mark used in Paris between 09.01.1809 and 10.31.1809 for general silver census.

mark of 'recense', mark used in Paris between 11.09.1797 and August 1798 for small silver census.

mark of 'decharge'.
under the lower rim

mark of 'decharge'.

mark of 'Jourande'.

silversmith's hallmark (image not available).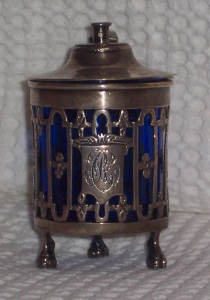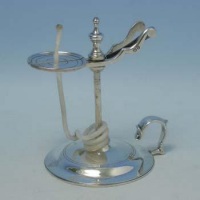 The wax jack was a container or a support holding up a taper, treated with wax or turpentine, lit to heat the block of sealing wax used to fasten letters and documents. Usually, a personal seal with a design cut into the bottom was pressed into the hot wax to leave personal identification. After the seal hardened, it was almost impossible to secretly open the letter, because the wax would break.
The wax jack was a common endowment for a desk writing set, along with the inkwell, sand container and bell.
Occasionally wax jacks were used as a mobile light , perhaps because they were more stable than taper sticks, blew out less easily and gave a better light.
mustard pot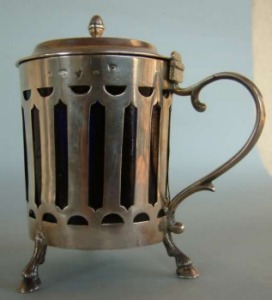 The body has cilindrical shape pierced with geometrical motifs supported by three hoof shaped feet.
A monogram with interwoven characters (of difficult reading) is engraved on the front.
The flat lid with acorn finial is hinged on the upper rim.
The handle is decorated with floral motifs and the inside liner is in dark blue glass.
This mustard pot is a 'provincial' item, while the wax jack is a most sophisticated Paris made object..
It has the marks of the Département Moselle, Bureau de Garantie Metz, between 1798-1809. There's also another set of marks used after 1838 (Minerve)
The mustard pot is 3 1/2" high (9 cm.) and has a diameter of 2 1/4" (5,5 cm.).
Endnote
(1) a long thin piece of string covered in wax or turpentine used in the past for lighting candles, fires, etc.
Giorgio Busetto and Giorgio Guida - 2005
English text revised by Jayne Daye