click on images to enlarge
VASES AND SNUFFER
A double presentation for our Members' Window # 17.

Michael Hutton presents these a couple of silver flower bud trumpet vases of Art Nouveau taste.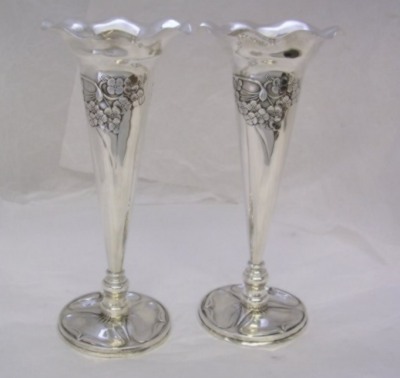 The maker is William Hutton & Sons.
The firm was founded in 1800 and Kate Harris designed Art Nouveau silver for the Paris Exibition of 1900.
Connel and The Goldsmiths & Silversmiths Co. were among the London shops that sold these designs (note 1).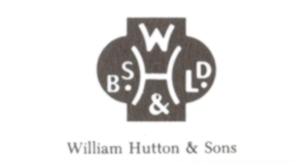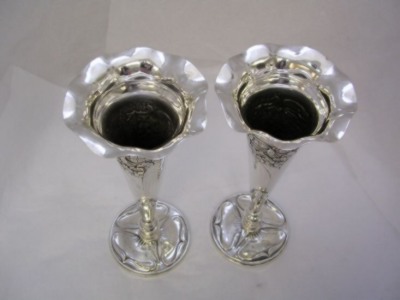 The vases are embossed with floral decoration on the body and on the base.
The hallmarks are 'London 1900', just before Herbert Hutton (note 2) was made Managing Director (1904) at Sheffield, and were probably sold from the London showroom at 13 Tavies Inn at Holborn, then the centre of London silver.
The vases are 190mm high (7 1/2 in.) and 90mm wide (3 3/4 in.) at the mouth.
The bases are loaded for stability.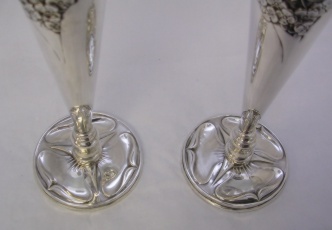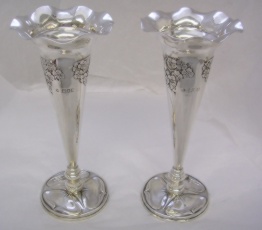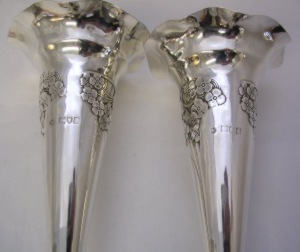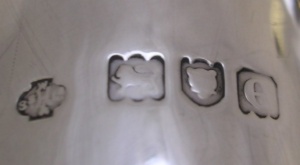 Endnote
(1) Annelies Krekel-Aalberse: Art Nouveau and Art Deco Silver, p. 256
(2) Herbert Hutton is the grandfather of Michael Hutton, co-author of this article
Pierre Debaillie presents an ancient snuffer and its tray.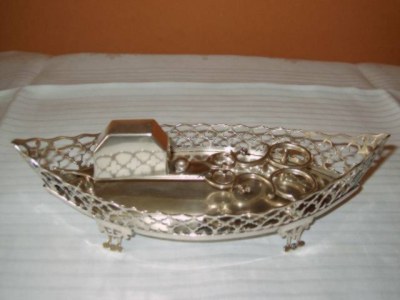 The snuffer formed a very necessary part of the equipment of every house before the invention of clandlewicks which could be entirely consumed by the flame.
This snuffer has circular finger rings, 'C' scroll arms standing on three supports.
The tray has oval shape, pierced rim and stands on four low foot.
The maker is 'maitre orfèvre' Jean François Gastellier who emigrated in Portugal from France.
His father was Jean Médard Gastellier , silversmith in Paris in 1769.
The objects are hallmarked IFG (silversmith Jean François Gastellier) and 'crowned L' (Lisbon - Portugal, date: 1803-1813).
The tray is 21 3/4 in. wide (cm 21,8), the snuffer is 5 7/8 in. long (cm. 15) while the total weight is 8.04 oz. (228 gr.)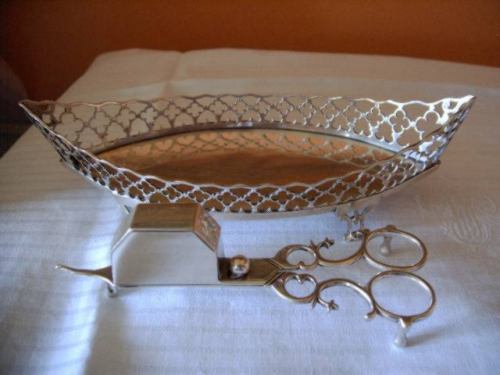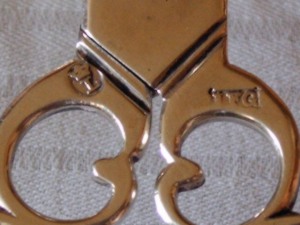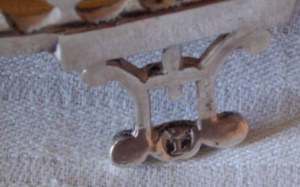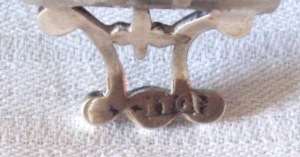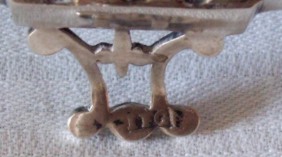 Michael Hutton
Pierre Debaillie
Giorgio Busetto - www.silvercollection.it -
- 2005 -