ASCAS has a new ...... home
I bought a new web hosting where I began to transfer the content of our website. The new address is:
http://www.ASCASonline.org
The old home page inside my private website will be mantained as it has an excellent page rank on search engines and reciprocal links with other websites.
ASCAS was created three months ago. As you see on member's list we are growing and many new memberships were added to our community.
To ameliorate our visibility, members are invited to add on their websites a link to ASCAS home page. For a 'figural link' you may use the logo available clicking here.
Here is a sample of the link you may add to your website.
Articles for ASCAS website

A new contributor to ASCAS website. Gianmarco Baldini presents an article on Gorham Corporation and its hallmarks
click here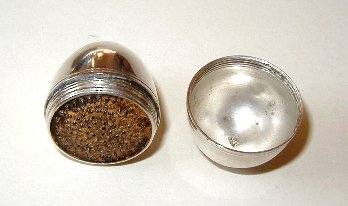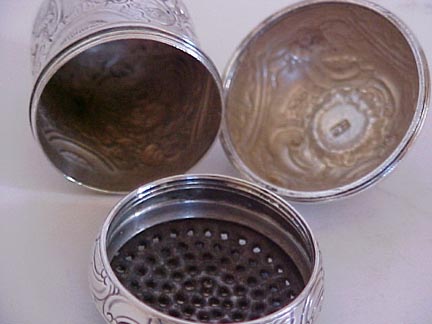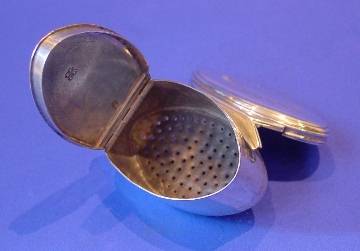 Giorgio Busetto presents an article on a forgotten artifact: silver nutmeg graters
click here
List of members
Welcome to new members (after 15 June 04):
Franco Campaner - Italy
Tiziana Corbelli - Italy
Christine Erratt - Australia
Daryl Ann Hiller - USA
Bill Kime - Canada
Dubravka Martinovich - Croatia
Rafe H. Nottage - Australia
Ferhunde Ozguler - Turkey
David Philliskirk - USA
Fredric Sinfield - Australia
John Strynkowski - USA
The updated list of ASCAS members (15 July 2004) is now available (only for members).
Members' Window # 3
There's a new addition to our Members' window. David Philliskirk displays his new find: a German beaker...... from 1576
click here.
A question from a member
Fredric Sinfield has a question concerning a 660 gram, 75mm high and 75mm wide, non tarnishing, lidded container set with gold bands and stones.
There are punch marks indicating the container was possibly made by A. Fouquet of Paris in the second half of the 19th century and is less than 50% gold.


Do any members recognise the marks or offer any suggestions as to what is the silver coloured metal as some basic test have been inconclusive?


About the teapot in ASCAS logo (see June newsletter) many members have suggested that the mark was an '800' corresponding to 800/1000 Continental silver purity degree.
Unfortunately the mark isn't '800' (the quality of my photo isn't good) but it is surely GGG with another G over the first letter (and partially interwined).
The mystery of my teapot isn't solved, but ...... a member has submitted an original research with non-conventional and intriguing results ( click here).

Closing our July newsletter I hope you have appreciated its content.
Your comments, suggestions and advices will be of great help.
My thanks to members Gianmarco Baldini, Sheila Gilbert, David Philliskirk and Fredric Sinfield for their precious contributions.

Giorgio Busetto
Secretary