Articles for ASCAS website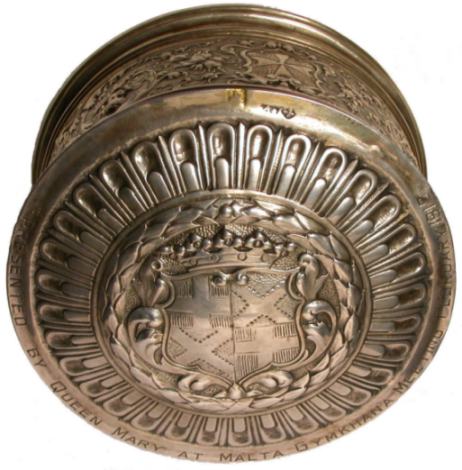 Fred Sinfield presents 'The Grand Master's Box', an article on a gilded silver box presented to Fra' Ferdinand von Hompesch zu Bolheim upon his election in 1797 as the 71st Grand Master of the Knights of St John. Click here
(This article was previously published in No. 1/2002 of the 'Journal' of The Silver Society of Canada.)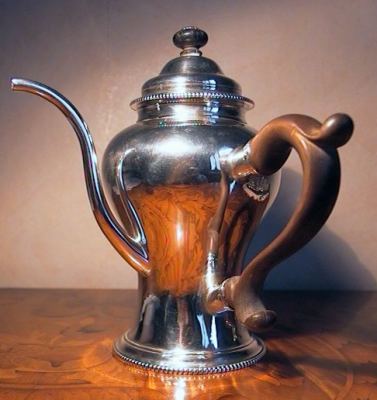 Giorgio Busetto and Maurizio Perota present 'Little-Known Tablewares: Argyles', an article on unusual devices suitable for maintaining the warmth of gravies and sauces on the journey from kitchen to table.
Click here.
List of members
Welcome to these new ASCAS members:
Anna Aubel - France
Charles Barry - USA
Steven Coonrod - USA
Charles Cook - USA
Piero Dissera - Italy
Joe Fortson - USA
Beth Gamel - USA
Christina Gold - USA
John Imhoff - USA
Werner Lack - Germany
Leta and Chad M. - USA
Corinne Mes - France
Jackie Moore - USA
Ezio Pasqualetto - Italy
Patricia J. Sime - USA
Karin Sixl-Daniell - Austria
Edward Tuten - USA
Joyce Weibel - USA
Hoda Zaki - Canada

ASCAS has now 185 members.
The updated list of ASCAS members is now available (only for members)

Members' Window # 9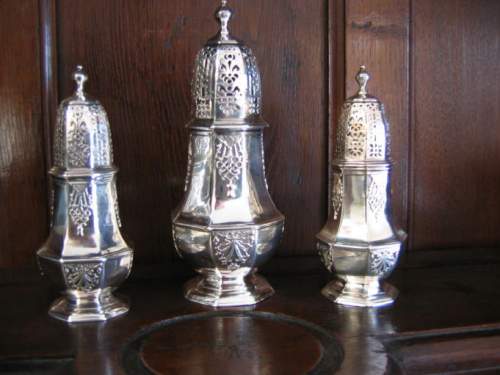 Dave Frothingham presents 'Three George I casters'. A set of three casters made by Thomas Bamford in 1720. Click here
Questions from ASCAS members
Fred Sinfield writes:
This silver spice casket is covered with innumerable 1mm circles with 'palms' and small green stones set onto a solid base in a type of filigree. It is 50x60x35mm and weighs 83grams. The punch mark is probably in Hewbrew, its origin is probably the Middle East and probably dates from 20th century. Might readers know this mark, the style of work, its origin or can date it? Suggestions will be appreciated.
(click on images to enlarge)
Do any members recognize the marks of this casket?
°°°°°
Corinne Mes (Paris - France), writes: Your association seems to be a great idea. As for myself, I encounter a lot of difficulties when trying to find 'silver' websites or links presenting hallmarks of foreign countries. I therefore suggest that members of the association indicate their preferred sites (concerning their own country). Do you think it would be possible ?

Our 'SILVER RESOURCES' page contains the addresses of interesting websites about silver (many managed by ASCAS members). Another website with useful links for hallmarks is http://home.wxs.nl/~luijt005/hallm.htm .
Anyway, what do you think about Corinne's proposal?
Giorgio Busetto
°°°°°
What is this piece ???
ASCAS member Andrea Perego writes:
Is there anyone who can help me to identify the object in the picture attached? It's a silver ring, diameter is about 12 cm. (4 3/4 in) and there are hallmarks I can't identify.

(click on images to enlarge)
I believe that this ring is too wide to be a 'napkin ring' and too small to be a 'dish ring'. Do any members recognize what was the use of this item and its marks?

December Newsletter requested members' solutions to some unresolved questions.
coffee pot?
or Hot water jug?
Hanau silver hallmark
what is?
what is?
To see how ASCAS members resolve our 'dilemmas' click here
Jayne Dye supplies a useful source of information for members interested to Austrian silver.
It's a CD-Rom on 'Viennese gold- and silversmiths from 1781 and 1921 and their marks' edited by Wiener Werkstätte Archiv.
The price is US$ 32.50. Members interested may contact
Dr.Elisabeth Schmuttermeier
Kustos Metallabteilung /Wiener Werkstätte Archiv - MAK
Stubenring 5
A-1010 Wien
Tel: (+43-1) 711 36-234
Fax: (+ 43-1) 711 36-388
schmuttermeier@MAK.at
http://www.mak.at/

Closing our January newsletter I hope you have appreciated its content.
Your comments, suggestions and advice will be greatly appreciated.
My thanks to Mario Rosario Bonello, Dorothea Burstyn, Jayne Dye, Peter Dean, Hymie Dinerstein, Dave Frothingham, Gerry Gerhart, Tom Guarrera, Bill Kime, Corinne Mes, Maurizio Perota and Fred Sinfield, for their precious contributions.

Giorgio Busetto
Secretary