---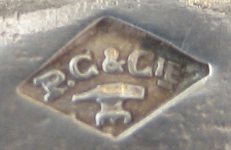 Robert Massart presents:

A Silver Cruet Set - Paris 1892/1911



.....This beautiful Art Nouveau cruet set consists of a silver mustard pot and three silver salt cellars. The set was manufactured in Paris in the workshops of Paul Canaux & Company, 75 Boulevard Malesherbes, during the period 1892-1911.
The cylindrical silver mustard pot is made of a 1 mm rolled silver sheet and is seamed to make the upright shape. The body is divided in three sections of which the middle section is adorned with swags and scrolls of floral motifs intertwined with swans. The upper and lower sections are adorned with roses and palm foliage. The mustard pot stands on four small ornamental feet and the original cobalt blue liner is in pristine condition. The domed hinged lid has a finial representing a bunch of grapes. The looped handle ends in a flower and foliage. The mustard pot stands 90 mm high with a diameter of 55 mm. The weight of silver is a hefty 94 grams (172 grams including the liner)..... click here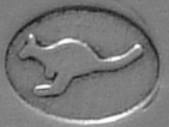 Christine Erratt presents:

Marks on Australian Silver


.....There is no register of the makers' marks applied to silverware in Australia as Australia does not have a hallmarking system.

When the idea came to me in 2002 to document the makers' marks of contemporary Australian silversmiths, little did I realise what an exciting project I was embarking on. Now, eight years later, my book, Marks on Australian Silver 1950-2005, is published..... click here

---
Welcome to new ASCAS members:
---
Members' Window # 75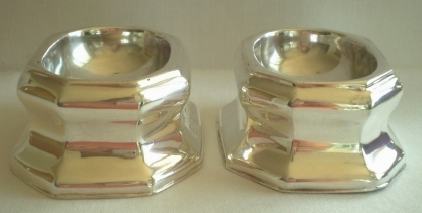 Maria Entrup-Henemann presents:

London Salts of the 18th Century



Through my interest for the fascinating material "salt" I became aware of the marvellous containers which were created to keep and present this precious substance in ancient times. I admired the great medieval salts which had not only a practical use but, above all, a ceremonial importance, indicating the relative status of persons by their position at the table in relation to the large salt. However this use was not very comfortable, so that, at the end of the 17th century, so called trencher salts were added. Trenchers were individual slabs of hard bread or wood that served as individual plates. Finally the large salts disappeared and individual salts were placed next to each individual trencher or between two of them.....
click here

---
The only information I have is maker's name: Drache Wilhelm KG, Solingen, Germany.
Giorgio Busetto
---
Paul Skippen writes:
...I recently acquired this beautiful solid silver gilt enamelled object. Assayed at Birmingham 1992 by J.W.BENSON. The top of which has been made into a loop, which makes me think it was meant to go through a sash or belt. It is approx: 5 inches x 2 inches. I have tried to do my own research in various avenues. As J. W.BENSON is renowned as a silversmith and clock maker I thought it may be something to do with clocks. I then investigated the possibility of an archery award and even Masonic. I have been completely unsuccessful in all directions.
Can anyone tell me what this is and if it was made for an award - if so, what?
Paul.
---
---
Bruno Bruni writes:
...I found a mark on a silverplate flatware set (F & W LTD), which I think is not reported on your site. The only correspondence I found is a similar sterling silver hallmark at Sheffield Assay Office reported on this site http://www.silvermakersmarks.co.uk/Makers/Sheffield-F.html :
F & W - 1946 .. 1969 - Flatware
I enclose some photos that I hope will be useful for your project.
Greetings
Bruno
---
---
Replies to questions
José Luis Muñoz writes:
The mark does not belongs to Diego González de la Cueva but to Nicolás Gonzalez de la Cueva 1701 - 1713.
I send the pdf with an article written about a Spanish silver tray by Cristina Esteras Martín, professor of Hispano/American art history. You can contact her at: http://www.anba.org.ar/anba/index.php?option=com_content&task=view&id=42&Itemid=9
José Luis
---
Christophe Ginter writes:
Regarding Jean Christophe MALGUY's request, there may be no doubt,
(1) "D" crowned for warranty mark, Paris 1720. Charge and discharge marks are correctly described (for Paris 1717-1722),
(2) silversmith is Pierre LANDELLE, with initials PL, a very famous maker registered in 1705, his activity is recorded until (at least) 1751.
I guess that the corresponding item is a wine taster.
Christophe
Michael Carter writes:
With regard to questions from Jean-Christophe Malguy in the July newsletter:
Photo #1: appears to be a discharge mark used for "vaisselle montée" in Paris from Oct 1, 1717 to Feb 14, 1722;
Photos #2-3: if the second letter is an I instead of an L, the maker's mark may be that of Pierre Jarrin, received as a master silversmith in Paris Feb 18, 1712;
Photo #4: appears to be a charge mark used in Paris from Oct 1, 1717 to Feb 14, 1722;
Photo #5: appears to be the warranty mark (crowned D) used in Paris from July 29, 1720 to Aug 4, 1721.
I assume that all of these marks were found on the same item, apparently a wine taster.
Other members may also answer his questions and possibly come up with different answers on Photos #2-3.
Best regards,
Michael
---
---
In this column we present a page obtained from makers' brochures, books, auction catalogs, advertising or whatever other printed paper, related to silver, that may be of interest for ASCAS members.
The images will be published at a "low resolution" level and for private and personal use only
This month we present a page of the 1890 catalog of

BENETFINK & COMPANY'S
SECTIONAL CATALOGUE
ELECTRO SILVER
AND
TABLE CUTLERY

Benetfink is a retailer's mark. Benetfink & Co was an optical company based at 107-108 Cheapside, London. The firm was active using the names Ben & Jones (1845-1851), Benetfink & Co (1852-1861), Benetfink & Fox and, again, Benetfink & Company in the 1890s
---
"A WORD per MONTH"
FIGURAL TRADE MARKS
ON BRITISH SILVER PLATE

The trademark or trade mark is a distinctive sign or indicator used by an individual, business organization, or other legal entity to signify that the products or services, to consumers with which the trademark appears, originate from a unique source, and to distinguish its products or services from those of other entities....
more
---
"A SILVERSMITH per MONTH"
GORHAM CORPORATION

The origins of Gorham are in 1831 when the firm of Jabez Gorham was joined by Henry L. Webster in the Gorham & Webster.
In its history the firm assumed these names: Gorham & Webster (1831-1837), Gorham Webster & Price (1837.1841), J. Gorham & Son (1841-1850), Gorham & Thurber (1850-1852), Gorham & Company (1852-1865), Gorham Mfg. Company (1865-1961), Gorham Corp. (from 1961).
The company moved into a new headquarters in Providence, RI in 1890 as employment surpassed 500, and in 1905 they opened a retail outlet on Fifth Avenue in New York City.....
more
---
"A BOOK ON MY SHELF"
In this column we present books, new or ancient, dealing with silver in all its aspects (history, marks, oddities...). This isn't a "book review" but only a fair presentation of some useful "tools" that anyone may have in the shelf of his bookcase.
ASCAS members are invited to contribute to this column
(click to enlarge images)
The "book on my shelf" of this month presents:
L'EBRAISMO E L'ARTE
gli argenti sinagogali
The catalogue of the Modena Synagogue Exhibition (September 7-14, 2003) of Silver Artifacts of the Synagogues of the Modena Ghetto (17th-19th Centuries).

by
Dora Liscia Bemporad and Federica Francesconi
Comunità Ebraica di Modena e Reggio Emilia, 2003
(text in Italian and in English)

The exhibition presented silver objects traditionally used in Jewish families. Objects whose purpose was to enrich and to adorn the synagogue fittings represented a devotional and dedicatory gift while different was the case for objects created for family use which, due to their private and domestic function, were handed down from father to son and followed the destiny of their owners....
---
"A CREST per MONTH"
In this column we present images and descriptions of Crests and Mottoes of British, Irish and Scottish families as engraved on silver items.
| | |
| --- | --- |
| WYMAN, WEYMAN, WYEMAN, WAYMAN | A fighting cock complete with spurs stood on a sheaf of wheat. The crest is on a Victorian silver plate sugar sifter spoon marked with the maker's mark of Gilbert, a firm established in Birmingham in the late Georgian period, however this piece dates to c1860. |
---
---
Closing our August 2010 edition of ASCAS Newsletter I hope you have appreciated its content.
Your comments, suggestions and advice will be of great help.

My thanks to Bruno Bruni, Michael Carter, Jayne Dye, Maria Entrup-Henemann, Christine Erratt, Christophe Ginter, Michelle Graham, Robert Massart, Carolyn Meacham, José Luis Muñoz, Paul Skippen, for their invaluable contributions.

Giorgio Busetto
Secretary

DISCLAIMER AND PRIVACY POLICY
ASCAS is a community of people having a common interest in antique silver.
It is a non-profit association without commercial links. Membership is open to whomever has a true interest in this subject matter.
ASCAS has no real property and no fees are requested nor accepted from members.
ASCAS keeps in touch with its members only through periodical newsletters, e-mails and web-site updating and ignores and is not responsible for any other activity pursued by its members.
Likewise, ASCAS is not responsible for opinions, evaluation and images displayed, and in any form published or supplied for publication, by its members who, in any case, maintain the property of their works and assure the respect of national and international legislation about Intellectual Property.
ASCAS does not have the full addresses of its members (only town, country and e-mail address are requested for membership).
ASCAS handles and protects with care its members' e-mail addresses, will not disclose the addresses to third parties, will use this information only to reply to requests received from members and for communications strictly related to its activity.
These rules are expressly accepted by submitting the membership request.