YOUR GUIDE TO APRIL NEWSLETTER:
articles
new members
members' window
mail to ASCAS
replies to questions
a page per month
a silversmith per month
a word per month
a book on my shelf
a crest per month
a year per month
contributors to this Newsletter
search engine
disclaimer and privacy policy
---
David McKinley presents:
Hester Bateman reappraised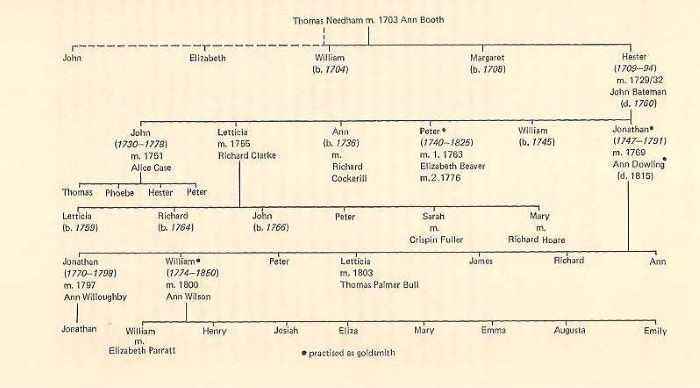 Because the output of the Bateman workshop was prolific and of fairly good quality its proprietor, Hester Bateman, has gained the reputation of being one of England's most famous female silversmiths. I believe however that this reputation is undeserved since there is no evidence either that she was a silversmith or that any of the plate that bears her mark was actually made by her. If accolades are in order they should go to her son Peter for it would seem that it was on his shoulders that the output of her workshop and its quality fell.
Hester Neden Married John Bateman, who as a chain maker, in 1732 and they had five children. Their son, Peter, who was born in 1740, was apprenticed to his brother-in-law Richard Clarke to learn the craft of the goldsmith in 1755. Clarke had learned his craft from Benjamin Pyne, recognised as a large worker who produced good quality plate, and it can therefore be deduced that Peter Bateman, who was made free in 1761, had learned the skills of a large worker....
click here

---
Welcome to new ASCAS members:
Jana Holland - USA
Catharine Hubbard - USA
Margaret Siemers - USA

---
Elvira Ter Horst presents:
The mystery: A silver Byzantium orthodox cross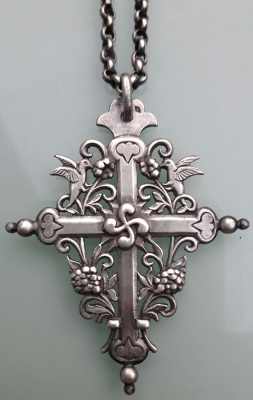 I am the founder (and leader) of a foundation called Foundation Palace North in The Netherlands. Because of this good cause (non-profit organisation) we get a lot of objects as gift.
And therefore my duty is also to turn the objects into sales for the foundation.
With the money we get for this objects (when they are sold...) we support our projects for children and older people. Our main goal is to create a multi-generational family feeling (from baby to the age of 92 (our oldest lady in our neighbourhood) for people who don't have it at their own homes or around.
We create meetings to interact with each other....all ages.
So you understand our investigations to get as much information as I can on objects, coming from around the world.
I also teach and pass this knowledge on to my young volunteers (Lesley, Quincey, Ben and Gino). So they also get fired up with interest in "the search" to reveal the object....
click here

---
In this column we presents a page obtained from makers' brochures, books, auction catalogs, advertising or whatever other printed paper, related to silver, that may be of interest for ASCAS members.
The images will be published at a "low resolution" level and for private and personal use only.
This column is published under the kind permission of Giorgio Busetto's website

OTHER SILVER ADVERTISEMENTS


This month ASCAS presents a page of
JUG DESIGNS FROM MATTEW BOULTON'S FIRST PATTERN BOOK
Matthew Boulton was not a "goldsmith" or a "silversmith" in the accepted sense, yet for his achievements and services to the craft of goldsmithing he is fully worthy of inclusion in the list of great English goldsmiths.
Matthew Boulton was born in Birmingham on 3 September 1728. His father Matthew Boulton (senior) was a "toy maker" and silver stamper specialized in the production of shoe-buckles.
Boulton junior was taken into partnership in 1749 and was left in sole charge of the business after the death of his father in 1759.
Boulton had the ambition to establish a manufacturing complex where craftsmen in the various branches of the "toy" trade would work together under one roof, enabling him to reap both wholesale and retail profits. In 1761 he realized his project purchasing a one-hundred- year-lease of the "Soho" estate at Handswoth Heath (two miles from Snow Hilton the Wolverhampton Road). MORE





---

In this column we present an abstract from a page of the "What is? Silver Dictionary"

courtesy of





ANTIQUE PLATE COMMITTEE
Nowhere else in the world are consumers more highly protected than in the UK. The UK is one of only a few countries in the world that have compulsory statutory hallmarking. This means that every item sold as precious metal, ie gold, silver, platinum or palladium must have been tested and hallmarked by an independent third-party Assay Office to guarantee that the precious metal is of the fineness stated.

It shall be an offence for any person knowingly or any dealer to supply or offer to supply any article bearing any mark of the character of a hallmark and if the article is in the possession of an assay office may be cancelled, obliterated or defaced.

The Antique Plate Committee (APC) of the London Goldsmiths' Company, created in 1939, is the internationally renowned body for adjudicating spurious silver articles. It advises the Assay Office on the authenticity of an article or whether there has been an illegal alteration or an addition to the piece, whether it could be an electrotyping, or if the hallmarks have been transposed or cast...

MORE...

---

In this column we present marks, information and history of silversmiths and silver manufacturers.
This column is published under the kind permission of Giorgio Busetto's website
WILLIAM GALE AND SUCCESSORS

The founder of the firm was William Gale (1799-1867) who invented and patented in 1826 a process for making spoons with ornamental patterns by cutting the ornament on rollers, both the upper and the lower rollers being cut with the pattern. This made the production of pattern spoons much less expensive than the former method of hand hammering patterns by the use of dies... MORE...

---

In this column we present images and descriptions of Crests and Mottoes of British, Irish and Scottish families as engraved on silver items.
This column is published under the kind permission of Giorgio Busetto's website
FAMILY CRESTS: LIST OF NAMES ILLUSTRATED DIRECTORY OF FAMILY CRESTS ELDER

The crest of Elder family (Scotland).
The Latin motto is "Virtute duce" (Under the guidance of valour).
The crest is described as "in dexter hand a palm-branch"
The crest has been found on silverplate spoon and fork with the marks of Elkington & Co, date 1877.

---

DISCLAIMER AND PRIVACY POLICY

ASCAS is a community of people having a common interest in antique silver.
It is a non-profit association without commercial links. Membership is open to whomever has a true interest in this subject matter.
ASCAS has no real property and no fees are requested nor accepted from members.
ASCAS keeps in touch with its members only through periodical newsletters, e-mails and web-site updating and ignores and is not responsible for any other activity pursued by its members.
Likewise, ASCAS is not responsible for opinions, evaluation and images displayed, and in any form published or supplied for publication, by its members who, in any case, maintain the property of their works and assure the respect of national and international legislation about Intellectual Property.
ASCAS does not have the full addresses of its members (only town, country and e-mail address are requested for membership).
ASCAS handles and protects with care its members' e-mail addresses, will not disclose the addresses to third parties, will use this information only to reply to requests received from members and for communications strictly related to its activity.
These rules are expressly accepted by submitting the membership request.