---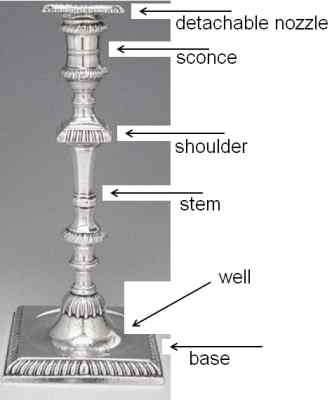 Giovanni Ciceri presents:

British cast candlesticks
A piece of beauty and a challenge for collectors



The use of candlesticks is documented since the antique Greek period and the Roman Empire. Candlesticks have been produced in all periods but it is just after the restoration of monarchy (1660) that in England survived a sufficient number of pieces to allow scholars to describe in details their evolution in style and shape.
During Charles II period (around 1670) candlesticks were generally made of hammered silver. They were highly ornate and with a square base, but lobed section base examples are also known .....
click here

---
Welcome to new ASCAS members:
---
Members' Window # 105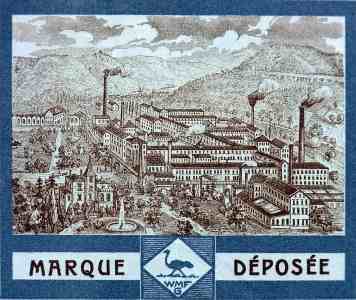 Dr. David N. Nikogosyan presents:

Marks of European Silver Plate: XIV Württembergische Metallwarenfabrik (WMF), Geislingen, Wurtemberg, Germany

WMF is the abbreviation for Württembergische Metallwarenfabrik, which in English means Wurtemberg Metalware Factory. The history of this foundry is well documented. WMF was created in 1880 after the successful merger of two Wurtemberg foundries, the Geislingen factory belonging to Daniel Straub (Straub & Sohn) and the Esslingen factory of Alfred Ritter (A. Ritter & Co.). The first foundry was commercially more successful, while the second one was using a more advanced technology of galvanic silver deposition, which was first applied in Esslingen by the German chemist Carl Haegele (in 1871), the brother-in-law of Alfred Ritter. In 1881, after the retirement of Daniel Straub, Carl Haegele became the managing director of WMF. In the same year the Esslingen factory was dismantled and its equipment was incorporated into the Geislingen foundry. During the next thirty years WMF experienced a period of rapid expansion, which lasted until the beginning of the World War in 1914.....
click here

---
Robert Ringold writes:
... This is an item that has been in the same family for 130 years. The original owner lived next door to the Tiffany family in NYC and it was made especially for them.
I am attempting to appraise it, but cannot yet find anything comparable to assign a value.
Has anyone ever seen a similar urn? The stamp indicates that it was made in 1881 or 1882. It is 17" high and weighs approximately 3 kg.
All the best
Robert Ringold
---
***ANSWER PUBLISHED IN MARCH 2013 NEWSLETTER***
---
Alan Davis writes:
... Does anyone have any info on this piece?
It has the stamp salim 800MD on the back
Alan Davis
I believe that your piece is a "Yogya silver" made in Yogyakarta, Java, Indonesia (after 1935 c.)
Giorgio Busetto
---
John Cole writes:
...Can you perhaps give me some information on this coffee set I found some time ago in Adelaide Australia?
It consists of 12 porcelain cups with a makers mark and the name Monopoli. There are 12 silver-plated coffee cup holders with a Hallmark 800 and a maker's mark that is quite small and I have yet to identify.
There are 12 silver-plated saucers each with the same hallmark. There is one porcelain sugar bowl (same maker's mark as the cups) with a silver-plated holder with two handles and finally 12 silver-plated spoons.
Thanks for your help,
John Cole
I'm not sure about the Italian origin of your set (the mark on the bottom is unknown to me).
If so, your item is 800/1000 silver fineness, not silver-plate.
The maker of the cup holders could be, possibly, Petruzzi & Branca (see my website at http://www.silvercollection.it/italiansilvermarks2.html).
Sorry, I have no knowledge about porcelain.
Giorgio Busetto
---
---
In this column we presents a page obtained from makers' brochures, books, auction catalogs, advertising or whatever other printed paper, related to silver, that may be of interest for ASCAS members.
The images will be published at a "low resolution" level and for private and personal use only
This month ASCAS presents a page from the 1918 catalogue of J.C. Vickery of London

J.C. VICKERY

Their Majesties Jeweller
Silversmiths & Dressing Case
Manufacturer
177 to 183 Regent Street London
No C. 156 - A Very Charming Solid Tortoiseshell and Sterling Silver Mounted
and Beautifully Inlaid "Chippendale" Toilet Service of Five Pieces




A retailer partnership founded in 1890 by John Collard Vickery and Arthur Thomas Hobbs. The partnership ceased in 1891 and J.C. Vickery continued the business alone. In the 1910s the firm obtained Royal Warrants of Appointments in UK, Spain, Denmark, Norway and Sweden. The firm was closed for bankrupt in 1930.
---
"A WORD per MONTH"
ELECTROTYPE (METALWORK)
GALVANOPLASTY

Electrotyping is a chemical method used to produce a metal facsimile of any object.

The process consists in forming from the model a soft material mold (wax or gutta-percha) and coating its surface with a thin layer of graphite powder to make it electrically conductive.

The mold, acting as a cathode, is immersed in an electrolyte solution and a wire is connected to the electrical source and to the metal anode (also immersed in the solution).

The electrical current dissolves the metal atoms of the anode which enter in the electrolyte as ions taken up by the conducting surface of the mold.

The electrical circuit is closed when the metal layer on the mold reaches the requested thickness.

Base-metal electrotypes could be silver plated, or gilt to more closely resemble the original work...... more




---
"A SILVERSMITH per MONTH"
THE GOLDSMITHS & SILVESMITHS CO LTD

The firm was established in 1880 by William Gibson (d. 1913) and John Lawrence Langman (1846-1928).
The firm was active at 112 Regent Street, London acquiring the premises previously used by John Joseph Mechi.
In 1893 the firm absorbed The Goldsmiths' Alliance Ltd (late A.B. Savory & Sons) and in 1898 became the Goldsmiths & Silversmiths Co Ltd being active as jewellers, dealers in diamonds and precious stones, silversmiths, electroplaters and watch and clock makers.
In 1952 Goldsmiths & Silversmiths Co Ltd was amalgamated with Garrard & Co Ltd.
The firm participated to a number of national and international exhibitions, as Indian and Colonial Exhibition (London, 1886), Paris (1889), Chicago (1893), California (1894), Paris (1900) and Franco-British Exhibition (London, 1908).....
more
---
"A BOOK ON MY SHELF"
In this column we present books, new or ancient, dealing with silver in all its aspects (history, marks, oddities...). This isn't a "book review" but only a fair presentation of some useful "tools" that anyone may have in the shelf of his bookcase.
ASCAS members are invited to contribute to this column
(click to enlarge images)
In the "book on my shelf" of this month ASCAS presents:
THE ENCYCLOPEDIA OF EARLY AMERICAN SILVERSMITHS AND THEIR MARKS WITH A CONCISE GLOSSARY OF TERMS

Revised and Edited by Rita R. Benson
Benson Gallery Press
Harrisburg, Pennsylvania
First printing 1966
Second printing 1972

Most of the information concerning the early workers of silver in the country is scattered through various catalogues of Exhibitions or sales. Therefore, there is no place to which a collector or a dealer can turn for concise data to identify a piece of silver or to understand its description.
This encyclopedia, written by Hollis French and published originally by the Walpole Society of Boston, is comparable to the exhaustive works which have been published abroad on the English silversmiths.
Even though a considerable amount of work was required to collect the information published in this volume only 200 copies of the original book were printed with availability limited to Members of the Walpole Society and various libraries. The current printing, revised and edited by Rita R. Benson, makes this volume available to general public.
---
Custom Search
---
Closing our FEBRUARY 2013 edition of ASCAS Newsletter I hope you have appreciated its content.
Your comments, suggestions and advice will be of great help.

My thanks to Giovanni Ciceri, John Cole, Alan Davis, John Lawrence, Dr. David N. Nikogosyan, Robert Ringold for their precious contributions.

Giorgio Busetto
Secretary

DISCLAIMER AND PRIVACY POLICY
ASCAS is a community of people having a common interest in antique silver.
It is a non-profit association without commercial links. Membership is open to whomever has a true interest in this subject matter.
ASCAS has no real property and no fees are requested nor accepted from members.
ASCAS keeps in touch with its members only through periodical newsletters, e-mails and web-site updating and ignores and is not responsible for any other activity pursued by its members.
Likewise, ASCAS is not responsible for opinions, evaluation and images displayed, and in any form published or supplied for publication, by its members who, in any case, maintain the property of their works and assure the respect of national and international legislation about Intellectual Property.
ASCAS does not have the full addresses of its members (only town, country and e-mail address are requested for membership).
ASCAS handles and protects with care its members' e-mail addresses, will not disclose the addresses to third parties, will use this information only to reply to requests received from members and for communications strictly related to its activity.
These rules are expressly accepted by submitting the membership request.