---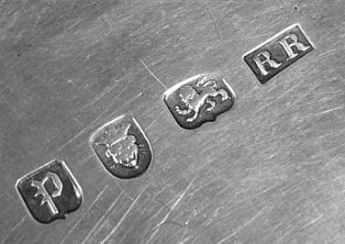 Giovanni Ciceri presents:

The case of Richard Rugg and Robert Rew - A debate on the attribution of a maker mark



The worker's or maker's mark was first instituted in England by the statute of 1363 which ordered that every Master Goldsmith should have a mark of his own, known to those appointed by the King to survey their work. In chronological order the maker's mark was the second marks becoming compulsory, after the introduction of the crowned leopard head in force since 1300, that was the guarantee given by the Worshipful Company of Goldsmiths that the silver was at list of sterling standard (925 parts of silver per 1000 parts of alloy)......
click here

---
Welcome to new ASCAS members:
---
Logan Need writes:
... Do you know anything about these marks? I was curious when I found them
Logan Need
---
Guy Brooke - Sumner writes:
... I was wondering if you could tell me a little about the hallmark of the attached picture... It is a serviette ring with claims that it is London hallmark Sterling silver.
Many thanks
Guy Brooke - Sumner
Your mark is rubbed and difficult to read. It could be Robert Pringle & Sons, year 1947 (see my website at http://www.silvercollection.it/ENGLAROBERTPRINGLE.html ).
Giorgio Busetto
---
Eddie Robinson writes:
... I wonder if you could advise me with the attached maker mark. [Sheffield] [F & G] [EP] [3]
I have searched high and low with nothing resembling F & G.
Kind regards
Eddie Robinson
---
---
Linda Rowe writes:
... I am hoping you can help me. I was wondering if my tray is silver or silver plated.
It is a silver tray made by Ellis-Barker Silver Co. (Barker Brothers).
I have attached a couple of pictures and all the information I have found out about the tray so far.
- The pineapple hallmark was issued from 1906 to 1912 by Barker Brothers
- The size of the tray without the handles is 24" by 17.5"
- The weight of the tray is roughly 8.5 pounds
- The engraving would be just gorgeous if it was to be polished
Here are some pictures I took
Linda Rowe
Your tray is silverplate and not sterling silver. See further information and images in my website at http://www.silvercollection.it/electroplatesilverB.html )
Giorgio Busetto
---
Guillaume de Saint Just writes:
...I'm trying to identify the maker of this cup.
Any help would be greatly appreciated
Guillaume de Saint Just
Your cup is silverplate (not sterling silver). The maker is Barker Brothers, Birmingham (see my website at http://www.silvercollection.it/electroplatesilverB.html )
Giorgio Busetto
---
---

Ludo D'Haese, Christophe Ginter, Jean-Gabriel Lamorte and Robert Massart
identify the mark belonging to the manufacturing silversmith Louis Alexandre Bruneau.
8 rue du Vertbois, Paris (1)
1 rue Montmorency, Paris (2)
38 rue de Montmorency, Paris (3)
N° de garantie : 2434 (1); 3353 (2); 4266 (3)
N° de préfecture : 2570 (1); 3494 (2); 4435 (3)
Symbol : a pellet over a nib (un bec de plume, un point au-dessus)
Mark entered : 9 June 1823 (1); 2 July 1834 (2), 8 April 1843 (3)

---
Werner Lack writes:
I believe the shown marks are pseudo marks; the last mark is the Latvian Import mark from Riga.
Riga was the gateway for European silver to the East, mainly Russia.
Werner Lack
---
Through further research and a contact in France it has been determined that the family which this armorial bearing belonged to was that of Porcheron de Saint James.
Still no luck with the hallmarks or makers marks but I'm still working on it and if unsuccessful hopefully someone else will be able to assist me.
Douglas B. Shand
---
Douglas Shand writes:
I'm not sure but I may have found the family coat of arms for Claude Guilloteau submission that appeared in the May newsletter. It would seem that it may be: "Perot"
See at http://www.francegenweb.org/~heraldique/base/details.php?image_id=1487&mode=search
Douglas Shand
---
---
In this column we presents a page obtained from makers' brochures, books, auction catalogs, advertising or whatever other printed paper, related to silver, that may be of interest for ASCAS members.
The images will be published at a "low resolution" level and for private and personal use only
This month ASCAS presents a page from The Soho Pattern Books of Matthew Boulton's Soho Manufactory

SOUP TUREEN PATTERNS

from Matthew Boulton's Soho Manufactory Pattern Books


Matthew Boulton employed numerous designers, including Robert Adam, John Flaxman and James Wyatt, but he also used a Soho workman, named Hooker, to act as draughtsman, and he probably made the sketches when required.
The sheets were submitted to customers for approval or the help them to describe an article they wished to commission.
This page illustrates models of Soup Tureen Patterns made by The Soho Manufactory
---
"A WORD per MONTH"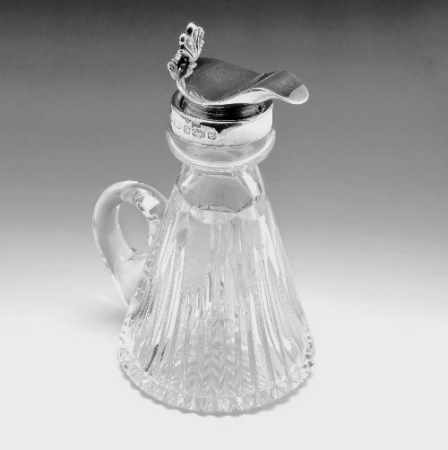 WHISKY NOGGIN
WHISKEY JUG
CHOTA PEG
This is a drinking vessel of glass crystal with curved handle and silver collar with thumb rest for opening the lid.

It has conical shape and, in most cases, a cut glass star on the base.

Often it is accompanied by a silver tot label and chain..... more
---
"A SILVERSMITH per MONTH"
LEVI & SALAMAN - LEVI & SALAMAN LTD

The business Levi and Salaman was founded in Birmingham in 1870 by Phineas Harris Levi in partnership with Joseph Wolff Salaman.
The firm was active at Northampton Street until c. 1872 when the business was transferred to larger premises at Hockley Street continuing the manufacture of silver jewellery.
In 1878 the firm bought Potosi Silver, a small manufacturer of silverplate spoons and forks. The production had great success and in 1885 the activity was transferred to new buildings in Newhall Street (Potosi Works).
P.H. Levi died in 1910 and the firm was converted into a limited liability company as Levi & Salaman Ltd. The first directors were Joseph Wolff Salaman, Clive Joseph Levi (son of P.H. Levi) and Lewis Henry Salaman. Potosi Silver Co was their subsidiary firm....
more
---
"A CREST per MONTH"
In this column we present images and descriptions of Crests and Mottoes of British, Irish and Scottish families as engraved on silver items.
BAIRD


Baird Bart. of Yardleybury, Herts; Fernton, Perthshire; and Newbyth, East Lothian
The crest is described as "A boar's head, erased".
The Latin motto is Vi et Virtute (By strenght and valour).
The crest was found on a silver marrow spoon made by James McKay, hallmarked Edinburgh 1843,
(courtesy Lindy Donato)












---
Custom Search
---
Closing our JULY 2013 edition of ASCAS Newsletter I hope you have appreciated its content.
Your comments, suggestions and advice will be of great help.

My thanks to Guy Brooke, Giovanni Ciceri, Guillaume de Saint Just, Ludo D'Haese, Rémy Du Pasquier, Christophe Ginter, Werner Lack, Jean-Gabriel Lamorte, Robert Massart, Logan Need, Eddie Robinson, Linda Rowe and Douglas B. Shand for their precious contributions.

Giorgio Busetto
Secretary
DISCLAIMER AND PRIVACY POLICY
ASCAS is a community of people having a common interest in antique silver.
It is a non-profit association without commercial links. Membership is open to whomever has a true interest in this subject matter.
ASCAS has no real property and no fees are requested nor accepted from members.
ASCAS keeps in touch with its members only through periodical newsletters, e-mails and web-site updating and ignores and is not responsible for any other activity pursued by its members.
Likewise, ASCAS is not responsible for opinions, evaluation and images displayed, and in any form published or supplied for publication, by its members who, in any case, maintain the property of their works and assure the respect of national and international legislation about Intellectual Property.
ASCAS does not have the full addresses of its members (only town, country and e-mail address are requested for membership).
ASCAS handles and protects with care its members' e-mail addresses, will not disclose the addresses to third parties, will use this information only to reply to requests received from members and for communications strictly related to its activity.
These rules are expressly accepted by submitting the membership request.