---
Christine Erratt presents:

From Villa Adriana to Australia
Australian Open Tennis Tournament Trophy

On 1st February this year, twenty two year old Spaniard Rafael Nadal won the 2009 Australian Open Tennis Championship in front of an enthusiastic crowd - enthusiastic both for the champion and the runner-up, Roger Federer of Switzerland. There was a huge television viewing audience also. They battled each other for over four hours for the title - and for the trophy and prize money. The Australian Open is one of the four Grand Slam Tournaments along with the French Open, Wimbledon and the US Open........

click here
---
Welcome to new ASCAS members:
---
Members' Window # 62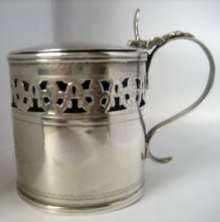 Robert Massart presents

Silver Mustard Pot - London 1798

Antique late Georgian cylindrical mustard pot, made of solid sterling silver, with original cobalt blue liner, assayed in London 1798 by the silversmiths Samuel Godbehere, Edward Wigan and William Abdy II......
click here
---
Francois C. writes:
...I get 11 knifes the handle are in full silver and the blade are forged in steel. Nine of them probably arrived from Italy, Venice end of the 18th century as beside the winged lion marks they have another mark, three crescent moons between an F and G. The other three, same model, are younger I think!
If hope that somebody can say to me the age and the name of the silversmith of the 2 kinds of knifes.
Thank you
Francois
these are the information I found about your marks:
- lion: is one of the shapes in use in Venice in the 17th and 18th centuries until 1810
- horse's head: is the mark used in Venice from December 25, 1810 until 1872 c. to identify silver items made before 1810
- FC with three crescent between: is mark #163 in Piero Pazzi book. Used at the end of the 18th c. beginning 19th c. (date 1805), possibly belonging to an unidentified assayer
-round mark DG with a flower between: it's a maker's mark not present in Piero Pazzi book nor in Donaver-Dabbene.
Giorgio Busetto
---
Malcolm Rice writes:
I read and enjoyed the very interesting article on fraudulent mote spoons by David Mckinley (see May Newsletter). I would, however, have reservations where he says he has experimented with tea and does not think mote spoons were used to scoop motes from tea cups. I wonder what sort of tea was used for the experiment.
During my working life I travelled extensively through India and the Far East and quite often bought tea from local tea merchants. That tea contained leaves which had been very roughly cut so that it was possible to get a tea leaf a third or a quarter the size of a whole leaf, more than large enough be apprehended by a mote spoon should the leaf escape the teapot and I suspect 18th century tea to be of the same roughly cut sizes rather than the dusty item we are presented with today.
Many thanks
Kind regards
Malcolm Rice
---
Moira Merryweather writes:
...I came across your site while researching a dish that belonged to my grandmother. She was a governess (1910s) to the children of a family whose father was Count Sollohub attached to the Imperial yacht 'Standart'.
The dish is 22cm across with ivy leaves and acorns (?) decoration. It stands on 3 feet and has a handle. On the back of the central metal part is stamped Fraget N Plaque in an oval. Above that is a double-headed eagle and below another image which is indecipherable. There are also the numbers 1164.
I don't know how my grandmother obtained the dish - maybe it was a wedding present - but I will treasure it. Only a few items came back from Russia when she had to leave Odessa suddenly because of the Bolshevik advances and it was considered too dangerous for the Britons to stay. Sadly my grandfather, who was working for the British Consulate in Vladivostok never returned. He contracted smallpox and died in 1924. I never met my grandmother as she died long before I was born but through research I have found out much about her life in Russia.
I would love to find out more about this dish and wonder if you can point me in the right direction.
Any help would be very much appreciated.
Moira Merryweather
These are the information supplied by Prof. David Nikogosian:
This little basket was made in Poland (in that time part of Russian Empire) in 1896-1915 by Fraget.
The inscription FRAGET N PLAQUE means Fraget silver plate on Alpacca (nickel-copper-zinc alloy).
In the small oval there is the coat of arms of the coppersmiths' corporation (two crossed hammers with a pair of compasses). The coat of arms of the Russian Empire (double-headed eagle) on the mark means a gold medal at the All-Russia Exhibition of Manufactured Goods or the sign of the official purveyor to the Court of His Majesty Russian Tsar.
Further details on Fraget factory are in my member's widow: http://www.ascasonline.org/windowFEBBRA57.html
Prof. David Nikogosian
---
Joanne Nikides writes:
...We have two trays that belonged to our great uncle. One is 7 3/4" by 10", and has no handles. The other is 27 1/4" by 18 1/4", and has handles. Both trays have the same "insignia/stamp" on them, at the middle of the left edge. The insignia/stamp measures 1/4" by 3/16" and says "BACHMANN ALPACCA" with a bird in the middle, separating the two words. The "BACHMANN" is on top and the "ALPACCA" is on the bottom.
We have some information about Berndorf metalwork factory which developed the alpacca alloy, but we don't know how Bachmann fits in, and when and where this tray might have been made.
Could you help us with information or references?
Thanks,
Joanne Nikides
---
Dennis Rogers writes:
...Greetings Giorgio,
I contacted you earlier this year to ask about my late Father-in-law's watch plus my late Sister's napkin ring. You responded with a wealth of information for which I am genuinely grateful.
Another item has been found in my late father-in-law's possessions for which I seek your knowledge.
This is not a small item. It is a trophy cup won by a horse (trotter I think).
I have searched your database and think I have identified some of the markings under the base but I am uncertain. There are initials:
JD & S but these are all separate, not within a shield.
EP, which could be Edward Power or Edward Pairpoint
he third image has be baffled. It appears to be a tree inside a shield. I cannot find any reference to this.
There are two other numbers but these I suspect are item or catalogue numbers. There is a 3 above the images and M869 beneath the images.
I have attached some photographs of the cup and the under-base images for your examination which should assist.
The cup is engraved 1906 and Bethungra is a town in NSW, Australia. This may give you a clue as to its maker.
Bethungra is about 20kms SW of the larger NSW town of Cootamundra. From Sydney the total distance is 415kms and takes just over 4 hours to drive.
The trotter was named Lady Forest and was owned by J.H. Cavanaugh.
Cavanaugh was my late mother-in-law's maiden name and the cup came from her side of the family. I am not sure if the cup was her father or perhaps one of her uncle's but I do know they were involved in the Trotting industry in those days.
The cup (to the lip) is 23cm tall (26 cm to the top of the curved handles).
Diameter is 12cm (22cm with the handles). Weight is 835 gm.
The handles have a ram's head at their apex.
The silver appears to be plated over some other metal (pewter?) and it has eroded in numerous places. The scrollwork and design work is intricate, unlike the more plainer designs of today.
Best Wishes,
Dennis Rogers
The maker of your cup is James Deakin & Sons, Sheffield (UK). EP signifies Electro Plated (silver) see information about the maker in my website at http://www.silvercollection.it/electroplatesilverD.html.
By the way, the "tree inside a shield" is a table bell (of the type used in the desk of hotel's reception)
Giorgio Busetto
---
The maker is Louis Weill & Henry Harburg, case makers, mark registered 1876, defaced 1879. The case is marked London 1876. Some information about the maker:
Louis Weill commenced his business in 1863 c. until 1876 c.
In 1876 entered in business with Henry Harburg. In 1879 Weill & Harburg had as partners L. Weill, H.Harburg and Charles Feis as wholesale and export watch manufacturers in London (Holborn Circus) and Chaux de Fonds, Switzerland.
Chronology of the firm: Weill & Harburg (c.1876-1890), Louis Weill (& Co) (1890-1896), Weill & Co (1896-1919), Arthur Mayer & L. Weill (c. 1919-1928), Arthur Mayer (1928).
Giorgio Busetto
---
John J. Yale writes:
...I'd be grateful if you could cast your eye over the attached pictures. I assume that this is Milan 800 silver from about 1820?
John J. Yale
You are right: the marks of your holywater font belong to Lombardo Veneto. The maker is Bozzolo Saverio, active c. 1827/1852.
Further information about Lombardo Veneto marks (Milano) in my website at http://www.silvercollection.it/LOMBARDOVENETOHALLMARKS.html and further holywater fonts at http://www.silvercollection.it/dictionaryholywaterfont.html
Giorgio Busetto
---
H. Dinerstein writes:
...I attach photos of a silver object marked 'AR' twice which is 6 1/2" long and 1/2" wide at its widest point and weighing 13 grams. Each end is decorated with pierced leaves and flowers. I have no idea what it was used for. Perhaps you can help.
Regards
H. Dinerstein
Any suggestion (a bookmark?) will be welcome
Giorgio Busetto
---
Christophe Ginter writes:
...I would like to identify the marks of two items:
- first item = "crowned double symbols" and "a Q (warranty ?) and HLB (maker's mark)"
- second item = "an identical crowned figure" "P" and "maker's mark = BARTH"
I would think for Dutch hallmarks.
Thank you in advance for your help.
Christophe Ginter
Another challenge for ASCAS members well acquainted with Dutch/Belgian marks?
Giorgio Busetto
---
---
---
---
Replies to questions
Wayne Robbins receives these replies about his "Russian" seal

(see June 2009 Newsletter)
David Nikogosyan writes:
...I know the key to the puzzle presented by Wayne Robbins, this seal carries some lettering in Armenian. This seal is probably made not in Russia, but in Turkey, Syria or Iran, where significant Armenian colonies existed at that time.
My relative told me that on both sites of the seal in the centre the same name is inscribed:
Murat (or Mourad in Arabic), once in capital letters, once in small letters.
Hope it will help. David.
David Nikogosyan
Bronia Wulich writes:
....I did some research about the seal of Wayne Robbins. My founds are:
1. The language of the seal is definitely not Russian. Not modern and not old Russian
(Staroslavianski;
2. There is a number 272, also in Arabic - see the first picture;
3. There is a word written in Arabic, probably meaning "original" - see the second picture;
4. The rest of the letters are probably in Armenian.
Best regards,
Bronia
---
---
"A PAGE per MONTH"
In this column we present a page obtained from makers' brochures, books, auction catalogs, advertising or whatever other printed paper, related to silver, that may be of interest for ASCAS members.
The images will be published at a "low resolution" level and for private and personal use only
This month ASCAS presents the sign of Andrea Pasina silversmith workshop "Al Leon d'Oro" (The Golden Lion) active in Verona (Republic of Venice, Italy) in 1764.
In the workshop were present, besides the master Andrea Pasina, four plate workers:

Giovanni Battista Scartesini,
Carlo Vigorio,
Pietro del Fior,
Andrea Pidemonte,

and three apprentices:

Domenico Piegadi,
Vincenzo Darniani
Midal Veronese
---
"A WORD per MONTH"
In this column we presents an abstract from a page of the "What is? Silver Dictionary"
courtesy of


EX VOTO

An ex-voto is a votive offering to a saint or divinity. It is given in fulfilment of a vow (hence the Latin term, short for "ex voto suscepto", or "from the vow made") or in gratitude or devotion. Ex-votos are placed in a church or chapel where the worshipper seeks grace or wishes to give thanks. The destinations of pilgrimages often include shrines decorated with ex-votos......
more
---
"A BOOK ON MY SHELF"
In this column we present books, new or ancient, dealing with silver in all its aspects (history, marks, oddities...). This isn't a "book review" but only a fair presentation of some useful "tools" that anyone may have in the shelf of his bookcase.
ASCAS members are invited to contribute to this column
(click to enlarge images)
The "book on my shelf" of this month presents:
A commentator wrote:
The period 1775-1830 is perhaps the most sumptuous in the whole of English silver. It began with the classical design of Robert Adam and ended with the grand extravagancies of the Regency. The far-reaching changes in social life brought by the industrial revolution began to touch the ancient craft of the London silversmith, threatened for the first time by mass-production in such provincial centres as Birmingham and Sheffield. But the craftsmanship triumphantly survived, not only in the splendidly ornate presentation pieces for officers in the Napoleonic wars, but also in the elegantly simple domestic silverware found in an increasing number of dining-rooms, drawing-rooms and boudoirs. The book ends with an illustrated section of the hallmarks of the period, including the rare duty drawback mark.
---
"A CREST per MONTH"
In this column we present images and description of Crests and Mottoes of British, Irish and Scottish Families as engraved in silver items.
STUDDART or STUDDERT or STODDARD

An Irish (Studdart or Studdert) or a Suffolk (Stoddard) family: the crest is a demi-horse, rampant, body environed by a ducal coronet and motto REFULGENT IN TENEBRIS (They glitter in the dark).


Crest represented in a dish and cover, Daniel Smith and Robert Sharp, London 1782


---
---
Closing our JULY 2009 edition of ASCAS Newsletter I hope you have appreciated its content.
Your comments, suggestions and advice will be of great help.

My thanks to Dominique Bochet, Alessandro Colemann, Jayne Dye, H. Dinerstein, Christine Erratt, Christophe Ginter, Martin Healy, Peter Lockett, Robert Massart, Moira Merryweather, Joanne Nikides, David N. Nikogosyan, Malcolm Rice, Dennis Rogers, Bronia Wulich, John J. Yale, for their invaluable contributions.

Giorgio Busetto
Secretary

DISCLAIMER AND PRIVACY POLICY
ASCAS is a community of people having a common interest in antique silver.
It is a non-profit association without commercial links. Membership is open to whomever has a true interest in this subject matter.
ASCAS has no real property and no fees are requested nor accepted from members.
ASCAS keeps in touch with its members only through periodical newsletters, e-mails and web-site updating and ignores and is not responsible for any other activity pursued by its members.
Likewise, ASCAS is not responsible for opinions, evaluation and images displayed, and in any form published or supplied for publication, by its members who, in any case, maintain the property of their works and assure the respect of national and international legislation about Intellectual Property.
ASCAS does not have the full addresses of its members (only town, country and e-mail address are requested for membership).
ASCAS handles and protects with care its members' e-mail addresses, will not disclose the addresses to third parties, will use this information only to reply to requests received from members and for communications strictly related to its activity.
These rules are expressly accepted by submitting the membership request.