---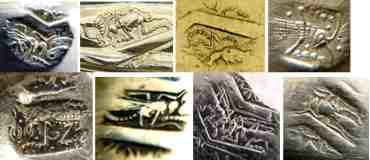 Robert Massart presents:

French Inventory Marks (Poinçons de recense)

Le Poinçons de Recense en France - 1722-1984



Fraud is of all time and, in order to counter it, the French government always fought against it by introducing more sophisticated defense systems. Particularly silversmithing did not escape from fraud, theft of hallmarks, imitations and forgery. In order to avert this, and because marks had been counterfeited, the government, during the "Ancien Régime", created in 1722 the inventory mark and organised the first free census. Since that date inventory means that, after a certain date, all preceding marks lose their value and all articles need new marks. 'Recenser' (inventorying or verification), means an official counting of golden and silver articles before they are sold......

click here

click here

---
Welcome to new ASCAS members:
Paul Bele - Australia
Angela Goins - USA
Trond Hjerpseth - Norway
James E. Williams - USA
Olga Wright - Australia
---
---
Mike Jeanes writes:
...I am wondering if you can help me with a recent purchase, as there are things I do not understand about it.
The item is a silver cake basket as photos attached, which I recently purchased from a seller in France on eBay.
You will see the normal UK hallmarks for 1775 and the makers mark of W.P (William Plummer), who is well known for his pierced silver work.
However in addition there are two French (Paris) hallmarks of Minerva which would have been applied after 1838 if I understand correctly.
My problem is that I assume such marks would only be applied to silver being purchased for sale in France, rather than silver brought across from the UK by someone emigrating to France. If this is right, then why would a silver dealer purchase a second hand item of UK silver for sale in France? After all, France has an excellent tradition of silver manufacture itself.
You can clearly see from the mark on the base that the mark has slightly damaged the armorial shield on the inside, so clearly the armorial was already in place when the French mark was applied. Why would anyone of the time want a piece of silver bearing someone else's armorials?
Also, why would two marks be required on the same body of silver?
There are also no marks, UK or French on the handle, which I find rather odd.
It is interesting that the shield is that of a lady (or possibly a clergyman) being a lozenge shape, rather than that of a gentleman, but that is irrelevant to my query.
Any information you can supply would be very much appreciated.
Regards,
Mike Jeanes
---
---
In this column we presents a page obtained from makers' brochures, books, auction catalogs, advertising or whatever other printed paper, related to silver, that may be of interest for ASCAS members.
The images will be published at a "low resolution" level and for private and personal use only.
This column is published under the kind permission of Giorgio Busetto's website

This month ASCAS presents an 1896 advertisement of:

ROGERS & HAMILTON

Waterbury (CT)

The firm was founded in 1886 taking over the spoon business of Holmes, Booth & Haydens. The president was Charles Alfred Hamilton who had travelled for Rogers & Bros for some years. William H. Rogers, secretary and stakeholder, wasn't a silversmith and undoubtedly participated to the business to add "Rogers" to the company name.
Rogers Brothers were the main and best renowned American silverplate makers and many other firms, often having no link with them, were founded to take advantage of the name 'Rogers' for their business.
The firm was active at Waterbury (CT) with branch offices in Chicago, New York, San Francisco, Baltimore and Philadelphia.
Rogers & Hamilton was one of the original companies forming International Silver Company in 1898.
---
"A WORD per MONTH"
In this column we present an abstract from a page of the "What is? Silver Dictionary"


courtesy of





BELL

Bell is a hollow metallic object that vibrates and emits a musical note when struck.

The main bells made in silver are:
- a bell in the form of an inverted cup with a vertical handle and a clapper inside. The handle is usually baluster-shaped with a ball finial. Sometimes they have the shape of a ring or of a human figure. Smaller bells were the central unit of an inkstand but, being a separate piece, often they have survived apart from their inkstand Table and inkstand bells were used to call a servant to do an errand.....
more
---
"A SILVERSMITH per MONTH"
PAIRPOINT BROTHERS, SILVERSMITHS IN LONDON

The firm was founded in 1848 by Edward James Pairpoint. The original address was 44 Whitcomb Street, Leicester Square but the firm soon moved to 16 Litchfield Street and later to 44 Greek Street.
In 1856 Edward James Pairpoint entered into partnership with George Wood and the firm was renamed Pairpoint & Wood.
The partnership was dissolved in 1850 and E.J. Pairpoint continued the business alone until the closure for bankrupt in 1879.....
more
---
"A BOOK ON MY SHELF"
In this column we present books, new or ancient, dealing with silver in all its aspects (history, marks, oddities...). This isn't a "book review" but only a fair presentation of some useful "tools" that anyone may have in the shelf of his bookcase.
ASCAS members are invited to contribute to this column
(click to enlarge images)
In the "book on my shelf" of this month ASCAS presents:
SMALL ANTIQUE SILVERWARE

by G. Bernard Hughes
Bramhall House - New York
1957

(from the cover page of the book) Increasingly in recent years collectors have been buying the smaller antiques made in silver. They are often useful, generally not too expensive, and they are always attractive. Up to now, however, no single authoritative work has provided a reliable guide for the dealer and collector. With this book, illustrated by no less than 250 examples, a renowned authority, G. Bernard Hughes, has provided just the guide whose lack has hitherto so conspicuously been felt.....
---
Custom Search
---
Closing our OCTOBER 2015 edition of ASCAS Newsletter I hope you have appreciated its content.
Your comments, suggestions and advice will be of great help.

My thanks to Ludo D' Haese, Mike Jeanes and Robert Massart for their precious contributions.

Giorgio Busetto
Secretary
DISCLAIMER AND PRIVACY POLICY
ASCAS is a community of people having a common interest in antique silver.
It is a non-profit association without commercial links. Membership is open to whomever has a true interest in this subject matter.
ASCAS has no real property and no fees are requested nor accepted from members.
ASCAS keeps in touch with its members only through periodical newsletters, e-mails and web-site updating and ignores and is not responsible for any other activity pursued by its members.
Likewise, ASCAS is not responsible for opinions, evaluation and images displayed, and in any form published or supplied for publication, by its members who, in any case, maintain the property of their works and assure the respect of national and international legislation about Intellectual Property.
ASCAS does not have the full addresses of its members (only town, country and e-mail address are requested for membership).
ASCAS handles and protects with care its members' e-mail addresses, will not disclose the addresses to third parties, will use this information only to reply to requests received from members and for communications strictly related to its activity.
These rules are expressly accepted by submitting the membership request.